If you were wondering what Nokia's Windows Phone 7 would look like, look no further. The mobile giant used the Mobile World Congress in Barcelona to showcase two Windows Phone 7 concept devices that look slim and sleek, but the company did not say when they would be available.
The concept unveiling comes days after Nokia's announcement Friday that it will partner with Microsoft to create new top-range devices (thus leaving Symbian and MeeGo behind). Attendees of Nokia's keynote at the Mobile World Congress were shown two slides of phone concepts powered by Microsoft's Windows Phone 7 mobile operating system.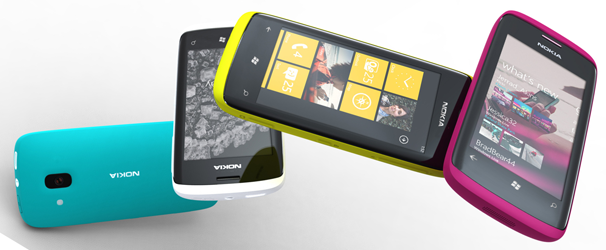 One phone is slim with rounded corners, has a speaker grill at the bottom, a standard headphone jack at the top and a hardware camera shutter and volume rocker are visible at the side on the device. Multiple color schemes for the same device seem to be in Nokia's plan book.
The second phone showed a slightly different concept model of a Windows Phone 7 that looks like the higher-end of the line of devices planned. The same image was leaked to Engadget a few days before. The phones feature the three standard Windows Phone 7 buttons at the front, with an overall minimalist look. Also visible are a camera with flash on the back, as well as a standard headphone jack and a power button at the top of the phone.
Nokia did not say whether these exact concepts would see the light of day, but they could be a clear indication where the company is heading. Meanwhile, Microsoft announced a few changes coming into a future Windows Phone 7 software update. These include access to SkyDrive, multitasking capability and a new HTML5 browser. These features will come after the first update to the OS, which is limited to adding copy and paste functionality and performance enchancements (scheduled to go out in early March).
See PCWorld's complete coverage of Mobile World Congress. Follow Daniel Ionescu and Today @ PCWorld on Twitter