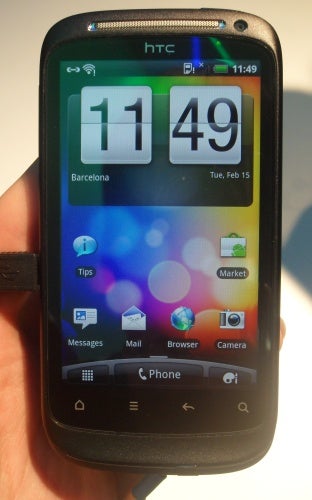 HTC's entrant into the tablet wars, the 7-inch Flyer, was definitely the belle of Tawainese handset manufacturer's press conference this morning, but there was still some exciting phone news. HTC announced updates to three popular Android phones including the Desire S.
It was only a year ago when the original Desire made its appearance here in Barcelona at Mobile World Congress. I was impressed by its tough, yet sophisticated unibody aluminum design. The Desire S retains this build with a nice rounded shape that feels really good in hand.
Unlike the Incredible S, the Desire S runs the latest version of Android, Gingerbread, which makes me happy. Like its predecessor, it is powered by a 1GHz Snapdragon processor. It has a bright, sharp 3.7-inch WVGA display. In my quick hands-on tests, the Desire S ran fluidly with no crashing or delays. The experience was pretty much on-par with the original desire but maybe slightly faster thanks to Android 2.3.
One nice upgrade is that the Desire has both a front-facing and 5-megapixel back-facing camera (with 720p video capture).
In Video: Hands On With the HTC Desire S
The Desire S, along with the Incredible S and the Wildfire S will be heading to Europe and Asia in Q2 2011. US availability, pricing or carriers has not been announced. Check back here for a video hands-on coming soon and see PCWorld's complete coverage of Mobile World Congress.