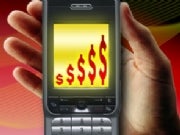 T-Mobile's parent company Deutsche Telekom will be launching mobile payments in Samsung handsets in Poland and Germany during 2011, but that the US isn't quite ready to accept the technology.
T-Mobile is partnering with AT&T and Verizon Wireless in a mobile payments joint venture called Isis, which will eventually enable mobile payments across all three carriers' networks. T-Mobile says it's working to launch phones with near-field communication (NFC) chips inside that enable mobile payments.
The big question around mobile payments in the US is over whom will lead the charge: the mobile carriers, the credit card companies or the banking intermediaries. All would like to control the system that enables mobile carriers. And there are others: event Apple and Google have been rumored to be working on their own mobile payment systems.
There is an enormous amount of money involved, as year by year more and more point-of-sale payments will begin to flow through mobile devices. Juniper Research estimates that $127 billion worth of mobile payments will be made by the end of 2014, when one out of every six phones will do mobile payments. So naturally all the players are jockeying to get in front of the most revenue possible from the business.
DT CTO Ed Kozel said today the business model is still in its formative stages in the US. "Nobody knows what the final version will look like; everybody is still experimenting with their business model," Kozel said. "Will it look like Visa or something else?"
T-Mobile and its Isis partners are now talking with financial players like Visa and Mastercard to iron out the roles of each in a collaborative mobile payments system, Kozel said.
But meanwhile, all the players are working on initiatives of their own. If this results in different businesses using different mobile payments systems, it might just cause confusion and hassle with consumers.
Kozel says the question over control may be answered in the US might be answered in 2012, as the players work out their differences and begin to form alliances. "I think by 2012 you will see a lot of consolidation as settle down into the business models," Kozel says. "I think we will migrate to a final consortium product."
But right now the carriers, credit card companies and banks seem to want to put their brand name on mobile payments. It might be that one service will have to emerge before mobile payments hit a critical mass in the US.