Do you own a smartphone, a netbook, a tablet PC, a digital camera, an MP3 player? Or an iPod Touch, a laptop, a handheld gaming console, and/or a Kindle or other type of e-reader?
If you use any subset of the above list daily, you probably could use a well-designed catchall gadget bag to schlep all that tech around safely. These messenger bags, cases, and backpacks have the ability to hold several devices, eliminating the need for a bag for each one.
We looked at five bags that would hold a laptop, a tablet or e-reader, a compact camera, a phone, all of their accompanying chargers, and extra batteries, plus some room for a personal device or two as well. Here is what we liked about each–and which ones are our favorites.
Airbak Air Tech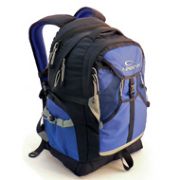 Airbags protect you while you're driving, and they can do the same for your laptop. That's the claim behind Airbak, a series of backpacks and other bags that include bladders you can fill with air. Not only does the air protect your tech devices from drops, knocks, and collisions, it's also supposed to protect your shoulders from the pain of carrying all your stuff. The air bladders spread the weight over your entire back, instead of making you feel as if all the weight is hanging from your shoulders.
That's the sales pitch anyway. And after using the Airbak Air Tech ($80) for a few months, I'm a believer. I used to have a recurring nightmare that someone would drop my laptop bag on a hard floor and my laptop screen would shatter.
With the Airbak, I don't worry anymore; the laptop compartment is so insulated by air that I drop my bag all the time without worrying. It's a little like dropping a pillow. And this backpack is comfortable, especially when I'm using it to commute by bike. Even the parts of the back panel that aren't in contact with the air bladder have thick padding, so I no longer get jabbed in the back by cameras or books. And carrying it does feel like less of a strain than with typical backpacks.
The one drawback: All that air takes up space. You won't be able to fit nearly as much in the Air Tech as you would expect to by looking at the outside dimensions. But it was still large enough for me to carry a laptop, a phone, other small gadgets, plus clothes and lunch. –Ed Albro
Alchemy Goods Messenger Bag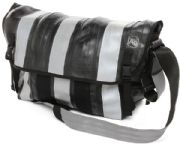 At first glance, the Alchemy Goods Messenger Bag looks like a hand-made creation comprised of duct tape and other rugged supplies. That's actually not far off–the bag consists of 73 percent recycled materials, including inner tubes, seat belts, and reflective Scotchlight tape. The bag's appearance is attention-grabbing enough, but it also boasts a lot of storage space.
As the name suggests, the Alchemy bag ($168) is a messenger-style shoulder bag with a rectangular shape. The bottom corners sport Velcro strips and two clips for closure, and the adjustable shoulder strap was clearly made from an old seat belt. You get three exterior pockets as well–a zippered one hidden by the closure flap and two small ones on the sides of the bag.
Inside, the Alchemy bag has one large compartment with two sewn-in open pockets and slots for pens and pencils. I was able to pack all my gadgets in the bag's main compartment, with three smaller ones taking up the pockets (my phone, my camera, and a Dell Streak 7 tablet). However, because of the lack of pouches, it's advisable to have sleeves and protective cases for your gadgets, since they'll be next to each other in the large pouch. It was also kind of annoying having all the chargers in the main pouch as well, as they took up space and kept getting tangled. Once packed, there was room for a wallet and a set of keys, but little else.
What the Alchemy Goods Messenger Bag lacks in individual pockets and smaller pouches, it makes up for in design, creativity, and storage space in its main compartment. Because of this, it would make a great bag for a college student or for someone who doesn't need to carry around all their gadgets all the time.
Crumpler's The Dreadful Embarrassment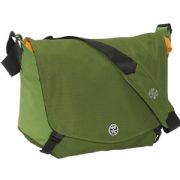 Pockets, pockets, and more pockets. The Dreadful Embarrassment, made by Crumpler, has pockets for all of your basic gadgets, plus additional room for personal items like a wallet and car keys. Its main compartment is so large that I was even able to pack a sweatshirt, a book, and a spiral notebook–and it still had room for more.
The Dreadful Embarrassment ($105) is a messenger-style shoulder bag with a Velcro-close flap and two clips for extra security. Crumpler provides several color options on this bag–the one I tested had a loud gray and orange exterior with a splash of neon green on the inside. The adjustable shoulder strap had a removable pad to provide a bit of extra comfort.
The bag boasts a large interior pocket with a padded compartment for a 17-inch laptop, a large zippered pocket, and seven other interior pockets of various sizes to hold a wide variety of devices. One pocket seems to have been designed with tablets and e-readers in mind, as it fit the Kindle perfectly.
One downside to the Dreadful Embarrassment is the lack of exterior pockets. Though most likely a security measure to make it difficult for someone to snatch an item and take off, opening the bag to answer your cell phone on the fly is not so easy, thanks to the Velcro and clip closures. Also, because this bag has such a large capacity, I was tempted to stuff it to the brim, which made it heavy to carry around and put a lot of strain on my shoulder, even with the padded shoulder strap.
Because of the Dreadful Embarrassment's size and its many pockets, this monster of a bag would be best suited for a true gadget-hound who needs to have a ton of products handy while on the move. This would also make an ideal travel or airplane bag, since it can hold other items along with your tech gear.
Next: More Bags–and the Winners
Osprey Packs Flare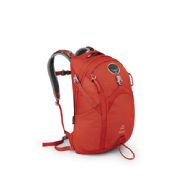 If you prefer a backpack to a messenger bag, or just need something a little more on the rugged side, then the Osprey Packs Flare is a solid contender. The Flare is lightweight, made of weather-resistant material, and has pockets and pouches for all of your essential tech gear.
The Osprey Flare ($79) looks like a hikers' backpack shrunk down to be more compatible for everyday use. It has one zippered main compartment and three exterior elastic pockets with clip closures on the outside of the bag. The adjustable shoulder straps are heavily padded and have chest clips to keep the pack in place. The pack feels comfortable when worn due to the squishy built-in back pads. The outside of the Flare also has numerous loops, clips, and straps for adding on more items.
Inside of the main compartment, you'll find a large pocket designed to hold a 15-inch laptop, another pocket ideal for an e-reader or tablet, and two other small pockets. Between the interior and exterior pockets, I was able to fit all of my tech gear and chargers without a hitch, although I would recommend protective cases and sleeves for anything loose in the main compartment as an extra precaution.
Because of the bags' design, fit, and functionality, the Osprey Flare is best suited for adventurers who need to bring their gadgets along on hikes, camping trips, water excursions, or any other sport or outdoor activity.
Tumi T-Tech Empire Landmark Laptop Messenger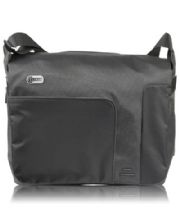 The Tumi T-Tech Empire Landmark Laptop Messenger looks compact from the outside, but don't let that fool you–this messenger bag has a ton of storage options and is comfortable to boot. Plus, its sleek design makes the bag appropriate for a variety of settings.
The Empire Landmark ($165) is an almost-square-shaped messenger bag with an adjustable shoulder strap and a single clip closure. It's available in a few different dual-color schemes, but all subtle and muted for a professional finish.
The outside part of the bag hosts a zippered padded laptop pocket designed for a 15-inch laptop, a smaller zippered pocket on the closure flap for a phone, camera, book, or smaller tablet, and a side pouch with a snap closure to hold a charger or two. You'll also find an expansion zipper–if you need more room, unzipping this will expand the bag outwards by about two inches.
Inside, you'll find one main compartment with seven additional pockets and pouches of various sizes. It also has slots for credit cards and IDs (in case you want to ditch your wallet) along with a pen and pencil case.
I had no problem fitting my tech gear into the Empire Landmark–everything seemed to have a pouch designed to hold that specific gadget, and the pocket organization assured that nothing would get lost or shift places. Because the shape of the T-Tech was more compact, it didn't feel bulky to carry around and was easy to store.
The Empire Landmark would be a good companion for anyone–students, gadget fiends, heavy travelers, others. But its organization and sleek design makes it best suited to be a casual bag for business endeavors.
Bottom Line
While each of the gadget bags tested would work well for niche consumers, the most practical over-the-should bag we looked at is the Tumi T-Tech Empire Landmark Laptop Messenger. Its size and design make it comfortable to schlep around, and the pockets keep all of your tech gear in place for ultimate organization.
If you're in the market for a backpack-style bag, we'd recommend the Airbak Air Tech, which wins points for its extra protection of your gear with its unique air bladder.