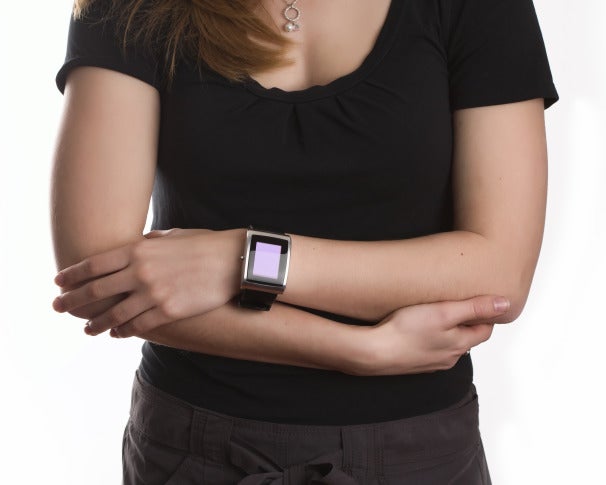 A Canadian company has developed an awesomely hackable wristwatch called the inPulse that operates in the vein of Dick Tracy, or Inspector Gadget. The "programmable Bluetooth wristwatch" works as a display for apps that you build using the company's free SDK on Windows, Linux, and Mac platforms and upload via the watch's Bluetooth connection.
What's more, since it can connect to Blackberries, Androids, and jailbroken iPhones (take that, Apple), customizable apps send you notifications about emails received, allow you to toggle through iTunes while your phone is in your pocket, or curate PowerPoint presentations with a previous and next button.
The watch is made for program-builders, and the watch makers offer the source code for the six-or-so apps that have already been created, so if you can code in C (or patch together a knowledge of C using the source code for the already created apps) you can build your wristwatch to do just about anything that's possible with 32kB of program space, a single button, and a color OLED screen.
This week, inPulse posted a video showing the Hackaday.com contributor Rossum maneuvering through a ported, watch-size, Doom:
The watch is still limited by its tiny size, as the website reports that an inPulse might not be able to connect to the Bluetooth if a cpu intensive program like Doom is in use, and if the Bluetooth is connected constantly the watch only has a little over a day's worth of battery use. Better send Dick Tracy out with a charger.
[inPulse via Hacker News]
Like this? You might also enjoy…
Get your GeekTech on: Twitter – Facebook – RSS | Tip us off