Toshiba joined the likes of Samsung and Motorola and unveiled a 10.1-inch Android Honeycomb tablet at the Mobile World Congress in Barcelona. Arriving sometime in the first half of 2011, Toshiba's unnamed tablet focuses on media capabilities, all pushed by an Nvidia Tegra 2 dual-core processor.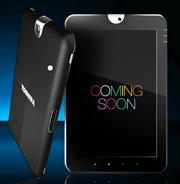 To differentiate itself from the other big-screen Android tablets from Samsung and Motorola (see the specs compared), Toshiba built a media-centric tablet with a 16:10 aspect ratio display at a 1,280-by-800-pixel resolution. The tablet also features two cameras: one 5-megapixel shooter at the back and a front-facing 2-megapixel camera for video calling.
There's built-in HDMI-out playback on your TV from the Toshiba tablet, plus you can hook up external storage devices or cameras via a full-size USB port. As an added bonus, the Toshiba tablet also has a microSD card slot for memory expansion and a miniUSB port for connecting with phones and digital cameras.

On top of GPS connectivity, the Toshiba Honeycomb tablet comes with WiFi; a separate version will have 3G connectivity built-in. Toshiba will also allow users to swap batteries for the tablet, unlike most tablets announced lately. The cover on the back is interchangeable as well and Toshiba will sell covers in an assortment of colors.
Toshiba is yet to announce pricing for its Android 3.0 Honeycomb tablet, or an availability date. Although the tablet's specifications look good, pricing will be probably the make-or-break factor for Toshiba's big tablet venture.
Follow Daniel Ionescu and Today @ PCWorld on Twitter