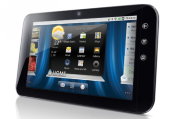 Marauding biker gang attacks Dell's offices!
No, not really–just a pair of company cheerleaders who trying to drum up excitement about the Dell Streak…only to cause a panic and ultimately get arrested.
Bryan Chester dressed in a black biker outfit and face-obscuring skull mask, and ran around one of Dell's Round Rock campus buildings on Monday morning, carrying two "metallic objects" and demanding that everyone go to the lobby, police told KXWAN Austin.
Several Dell employees panicked, called 911, and the SWAT team arrived. Chester's supervisor, Daniel Rawson, refused to comply when confronted by law enforcement, which escalated the marketing stunt into an "extreme risk scenario," Officer Eric Poteet told KXWAN.
Two arrested in Dell marketing stunt: kxan.com
Both Chester and Rawson were arrested and face misdemeanor charges of Interfering with Public Duties and Deadly Conduct.
Dell Spokesman David Frink declined KXWAN's request for an on-camera interview but called the incident "an unfortunate choice" by a Dell employee.
The idea behind the internal marketing stunt–which, by the way, was kept secret from the rest of Dell's staff, hence the panic–was apparently to promote the Dell Streak's interactive capabilities with Harley-Davidson Motorcycles. And though the "metallic objects" Chester held were never identified, my guess is that he wielded the terrifying power of the Streak itself.
Today's marketing lesson is brought to you by Officer Poteet: "Think before you act. My goodness."