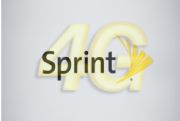 Sprint looks to be seriously considering a major strategic move away from WiMAX technology and toward the LTE technology that is being used, or will be, by its competitors.
Sprint originally chose WiMAX technology because it wanted to beat its competitors to selling 4G service and phones. So it used the 4G technology that was available at the time-WiMAX. And Sprint indeed did beat everyone else to market with 4G by two years. But as its competitors catch up, it appears that WiMAX may not be the technology that will keep Sprint in the game.
I talked to Sprint's Senior Vice President of Networks, Bob Azzi, before a Sprint "Network Vision" round table here at Mobile World Congress. During our conversation Azzi seemed to be all but announcing that Sprint and its infrastructure suppliers (Alcatel-Lucent, Samsung and Ericsson) are poised to build and operate a large LTE network in the very near future.
All three of Sprint's infrastructure partners build both LTE and WiMAX gear. The fact is the two technologies aren't that different, and the conversion could be done by installing new baseband cards at Sprint network facilities, then running a software upgrade.
Sprint definitely has the spectrum to do LTE in a big way, and only LTE. "With the spectrum holdings we have, WiMAX is not an option," Azzi explains. Sprint owns 120 megahurtz (MHz) of spectrum in the 1900 band nationwide, and will have 14 MHz of spectrum in the 800 MHz band nationwide after a rebanding takes place. Meanwhile, even with its majority stake in WiMAX partner Clearwire, Sprint has only and "indirect ownership" of Clearwire's large 2.5 GHz spectrum holdings.
And then there's Clearwire. Clearwire is having serious money problems and will need to find a cash infusion to keep going past the near-term. Why doesn't Sprint just give Clearwire the cash it needs to expand the WiMAX network rapidly? The theory goes that Sprint and Clearwire are in a struggle for control of the network, with Clearwire not relinquishing enough control to warrant a cash infusion from Sprint. Azzi does not confirm this, saying that his company and Clearwire continue to work together in existing WiMAX markets.
While this is all going on, Sprint's 4G network expansion appears to be on hold. Azzi says Clearwire has enough money to "maintain" its current network. But expansion into new cities has slowed to a trickle. And, judging by the results of PCWorld testing, Sprint and Clearwire aren't increasing the speed of the existing WiMAX networks very aggressively. Meanwhile, Sprint's competitors are making large jumps in speed and/or moving outward rapidly to cover more markets.
The reason for Sprint's loss of momentum might extend beyond its relationship with troubled Clearwire. Sprint may no longer believe that WiMAX can deliver the capacity and speed it will need, at a cost that will keep Sprint in the game.
Azzi says the answer might be to build an LTE network that would complement the existing Clearwire WiMAX network. The phones connected to that network would need to be tri-band, meaning that they will contain new CDMA chipsets that also support LTE, with a WiMAX radio "velcroed on," as Azzi puts it. The fact that Sprint is even talking about such tri-band radios for it phones is proof that it's serious about LTE.
Sprint says sales of it 4G WiMAX phones have been very strong where WiMAX service is available, but it seems that Sprint will have to make a major strategy decision soon.
"The question is how to keep growing," Azzi says. "It's about having a plan."