Dell's roadmaps for tablets and smartphones have apparently been leaked, and the listings show devices running on yet-to-be-released Google Android and Microsoft software. Among these devices, a vertical QWERTY slider phone with the next-generation Windows Phone 7 software and Windows 8 tablets stand out.
The AndroidCentral and WPCentral blogs published presumed leaked tablet and smartphone roadmaps from Dell. According to the leaked slides, Dell is planning to release a 4-inch smartphone code-named Hancock in September. The phone has a dual-core processor and dual cameras, running on Android Ice Cream (which bridges tablet Android 3.0 with smartphone Android). The phone would have a high-resolution 960-by-640-pixel display with a rear 8-megapixel camera (shooting 1,080p video) and a front-facing 1.3-megapixel camera.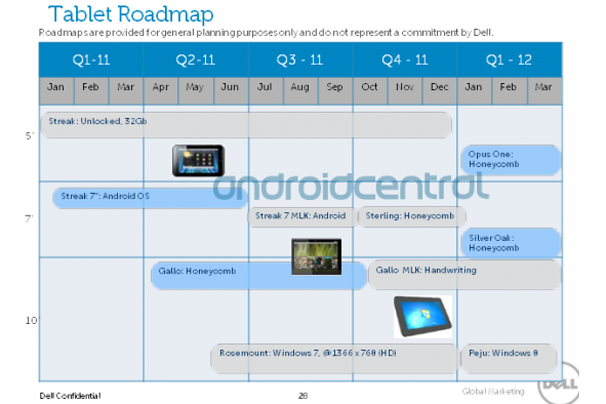 Still in Android territory, Dell also plans a 4.3-inch Ice Cream phone in the fourth quarter code-named Millennium, which, according to the leak, would also feature a high-resolution 960-by-540-pixels display, dual-core processor and DLNA support. The back camera would also shoot 8-megapixel photos and 1,080p video, while the front camera would be VGA.
The roadmaps show that Dell also wants to boost its Windows Phone 7 range, with the vertical QWERTY slider phone, code-named Wrigley, in July. Wrigley is a 1GHz 4-inch, 8-megapixel camera smartphone, branded as "Windows Phone 7 Next Gen," which implies Microsoft would be ready to deliver software updates to its new mobile OS by then. The leaked documents also show a Dell Venue Pro MLK device to arrive in April, but WPCentral suggests this could be just a software update.
As for tablets, Dell appears to have four Android tablets in the works, too. The roadmap on AndroidCentral shows the Dell Gallo Honeycomb tablet arriving in April, followed by the Sterling in the fourth quarter, also running Honeycomb. Two more Android tablets, Opus One and Silver, would arrive in the first quarter of 2012. Interestingly enough, the leaked roadmap also shows a Windows 8 tablet code-named Peju arriving early next year, but there are no other details available on this mysterious tablet.
Follow Daniel Ionescu and Today @ PCWorld on Twitter