Apple has dominated close to 60 percent of the global touch panel capacity, causing its competitors — including RIM, HP, and Motorola — to fight for the remaining scraps to build touch screen smartphones and tablets, according to Digitimes. Meanwhile, "second-tier" manufacturers (read: the creative minds behind Walgreens' tablet) are being pushed out of the tablet market altogether.
Digitimes' report noted that several notebook brands such as Samsung, Acer, and HP have all turned away from the major touch panel makers such as Wintek and TPK (where Apple holds control) to smaller suppliers: Sintek Photronic, Egalax-empia Technology (EETI), AimCore Technology, and J Touch.
While Apple's 60 percent may be good news for consumers overwhelmed by too many tablet choices on the market, and for small-name touch screen panel manufacturers, it may also result in higher-than-usual prices for Apple's competitors. It is basic supply and demand: panel prices will rise; Apple's competitors will be forced to spend more and then even out their losses by raising product prices.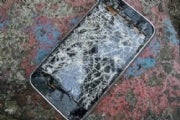 Meanwhile, Apple can begin lowering its prices, like it has with the latest MacBook Air and the (rumored) smaller, cheaper iPhone. Just think: Apple, always known for high quality — and prices to match — could become the bargain-bin company!
Forbes pointed out that on the company's last conference call, "Apple disclosed that it has signed long-term agreements with three vendors on unspecified components under which it expects to spend $3.9 billion in 'prepayments and capital expenditures' over a two-year period. Speculation on the Street has been that the arrangement specifically involved display screens."
Apple's goal is to sell over 100 million iPhones and 40 million iPads in 2011, which would result in a "$24 billion business as measured by revenue," calculated SF Gate.
So now that it has majority holdings in a vital market, does Apple have anything to fear from the likes of its competitors? Or will the iPad ride high and mighty, proving to be the be-all end-all for tablets?