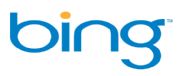 Microsoft has unveiled its new Bing Bar, a free browser toolbar designed to expose all the latest and greatest features of Redmond's search engine–many of which you may not know exist. To make all of this goodness happen, however, you'll have to open up a little–well, a lot–to Bing's toolbar, which collects information about your computer and searches, as well as the addresses of the websites you visit. Who knows, it may even be silently judging you as well.
Bing Bar works with Internet Explorer 7 or later on PCs running Windows 7, Windows Vista, or Windows XP with Service Pack 3. You can download it here. Its key features include Facebook and email integration, as well as the ability to push breaking news, traffic, and weather information to you.
Facebook fans can get status updates simply by clicking the Facebook icon on the Bing Bar. A dropdown window shows a quick snapshot of what your Facebook friends are up to.
You'll see your news feed, notifications, messages, and friend requests. You can "like" items in the Facebook window, and post status updates and comments too. Bing Bar's toolbar's push capabilities are impressive. If you get a friend request, for example, it'll appear as a pop-up notification.
Bing Is Watching You
As you surf, Bing Bar studies every move you make. Log onto you Gmail account, for instance, and a pop-up asks if you'd like to add Gmail to the Bing Bar. (This feature supports Gmail, Hotmail, and Yahoo Mail.) Click "Yes," and the toolbar grabs your login credentials, and displays your email messages in a dropdown box. To read a message in a new window, click it. To write an email, click the Compose icon in the upper right corner of the Bing Bar email window.
The Bing Bar's watchful eye monitors your shopping habits too. Let's say you go to Target's website. A Bing Bar message will appear, asking which section of the retailer's site you're looking for, such as Electronics, Store Locator, and so on. It also hooks into Bing Maps to help you find the Target store nearest you.
When there's breaking news on Bing, you'll get a message about it. Or you can click the News icon to read the latest headlines from Bing's news page. The toolbar provides weather and traffic information for your city as well.
If you're not creeped out by having a search engine monitor your every move, the Bing Bar has a lot to offer.
Contact Jeff Bertolucci via Twitter (@jbertolucci ) or at jbertolucci.blogspot.com .