Speculation about development of a smaller and cheaper iPhone model at Apple have put two competing newspapers in a peculiar situation. First, The Wall Street Journal says Apple is making a half-sized iPhone, then The New York Times comes in three days later saying the opposite thing. Given both papers are thought to be occasional publishers of 'official' Apple leaks, is there or is there not a small and cheap iPhone in the works?
On Monday Yukari Iwatani Kane and Ethan Smith report for the Journal (WSJ) a less pricey iPhone is in the works. "One of the people, who saw a prototype of the phone late last year, said it is intended for sale alongside Apple's existing line," the report says. We also find out "the new device would be about half the size of the iPhone 4, which is the current model."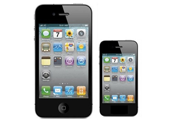 Perhaps one of the most important nuggets of information in the story, "Apple currently sells iPhones to carriers for $625 each on average. With carrier subsidies, consumers can buy iPhones for as little as $199 with a two-year contract." With a smaller iPhone, it would makes sense to allow carriers to subsidize most or even all the retail price of the device. The missing bit of information: no idea when and where in the world Apple would sell these cheaper iPhones. Note that Bloomberg reported on a cheap and small iPhone too, on February 11.
On Thursday Miguel Helft and Nick Bilton report for the Times (NYT) that, indeed, "Apple has been exploring ways to broaden the appeal of the iPhone by making the popular device less expensive and allowing users to control it with voice commands." They acknowledge the contradictory reports, noting: "But contrary to published reports [as in the WSJ], Apple is not currently developing a smaller iPhone, according to people briefed on Apple's plans who requested anonymity because the plans are confidential."
Instead, Apple seems to be focusing on putting the next iPhone out this summer, which "is likely to be similar in size to the current iPhone 4" according to NYT. Apple might resist a small and cheap iPhone for several other reasons. A smaller device wouldn't necessarily be cheaper to manufacture than a regular iPhone. Plus, a smaller screen would mean developers plugged into Apple's App Store economy would have to rework their apps for a possibly different screen size and resolution of a low-end iPhone.
It would make more sense for Apple to drop the price of the current iPhone 4 to $99 and then later down the line to $49 (case in point iPhone 3GS), using the device as a cheaper alternative to the unreleased iPhone model coming this summer at full $199 price.
Follow Daniel Ionescu and Today @ PCWorld on Twitter