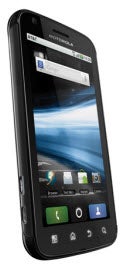 The smartphone of the future is coming on February 22. Motorola's Atrix 4G dual-core handset will officially launch on AT&T next Tuesday, according to a tweet from Motorola Mobility's official Twitter account. The Android-based device is an important landmark, because the Atrix 4G can function as a regular smartphone or can be hooked up to a keyboard and monitor for a desktop PC-like experience.
But while the device is definitely the smartphone to watch in 2011 the first-generation Atrix 4G has some serious downsides for the average user.
Atrix Specs
The Atrix 4G is packing two 1GHz processor cores for up to 2GHz of processing power, 1GB RAM, 16GB onboard memory, and a microSD card slot supporting up to 32GB storage for a maximum of 48GB storage.
The Atrix 4G has a 4-inch display, Android 2.2 (Froyo) with Motorola's MOTOBLUR overlay, 802.11 b/g/n Wi-Fi, Bluetooth 2.1+EDR and HSPA+ cellular connectivity (where available).
Atrix Webtop
When you want to dock your smartphone, the Atrix 4G changes from its smartphone view to what Motorola calls the phone's Webtop view on the external monitor. The Webtop is an app on your phone that launches when it detects a connection to an external display.
The Webtop provides access to all the apps on your phone and a full version of the Firefox browser. Enterprise users can also use the Citrix XenApp to access a virtualized Windows 7 desktop.
Atrix Toys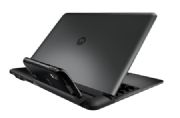 The secret of the Atrix 4G's "cool factor," however is its ability to interface with a special laptop shell or to hook up to an external monitor and keyboard. But for that functionality you need a few toys.
The Laptop Dock includes an 11.6-inch backlit screen, full-size keyboard, touchpad, two USB ports, and stereo speakers; it weighs a little more than 2 pounds. Motorola claims a six-hour battery life for the device, and it also has a p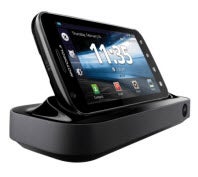 ower pack to plug into the wall if you don't want to run on battery power. The laptop dock is just a shell that cannot do anything until the Atrix 4G is slotted into the back.
The Atrix 4G's HD Multimedia Dock is a device charger that includes two USB ports, an HDMI slot, and a mini headphone jack. You can use the charger to hook your Atrix up to a desktop monitor, keyboard, and mouse or you could use the HDMI port to connect your phone to an HDTV.
Playback through the Multimedia Dock's HDMI port supports 720p high-definition video, but Motorola says the Atrix 4G will be upgraded to output 1080p via HDMI in the future.
The Bad News
The Atrix 4G's Webtop is a brilliant idea and is the first realization that smartphones could one day double as a PC you just plug into a shell–see this Technologizer column by Harry McCracken for a more thorough explanation. But a few problems exist with this first effort.
First up, Price
You can buy the Atrix 4G's Laptop Dock in one of two ways, and either will set you back at least $500. You can buy the Laptop Dock and the Atrix 4G for $500 with a two-year contract. You also have to sign up for a data plan and AT&T's infamous $20-per-month tethering convenience fee if you want to browse the Web on the laptop dock. The upside is you can get a $100 mail-in rebate on your purchase after you sign-up for the data plan and tethering.
The other option is to buy the Laptop Dock straight up without a two-year contract for $500. That's a high price point considering you can buy an actual 11.6-inch netbook running Windows 7 for that price instead of just a dumb shell that can only display (not power) a glorified version of Android. You also still need the $20-per-month tethering fee if you want to use 4G data instead of Wi-Fi.
The HD Multimedia Dock for hooking up to an external monitor and keyboard costs $190.
Webtop Not Windows
The second downside is that the Atrix 4G's Webtop is not a true desktop OS. Sure, you get access to a full version of Firefox so you're not browsing the mobile Web on a larger screen, but I'm not so sure there is much demand for running Android on a desktop or laptop monitor.
The real milestone for the Atrix 4G's concept will come when your handset can power a desktop version of Windows, Linux, or Mac OS X. Yes, if your company supports it, the Atrix 4G can access a cloud-based version of Windows 7, but for everyday users this feature is not available.
Also, when PC World's Mark Sullivan reviewed the Atrix 4G he was unhappy with the device's performance in Webtop mode using the Laptop Dock. "I probably couldn't work with this Webtop environment on a daily basis," Sullivan said.
Nevertheless, the Atrix 4G is definitely a smartphone to keep your eye on. And if Motorola or another smartphone maker figures out how to pack dual-mode Mobile OS/Windows 7 functionality into a handset, that really will be a game-changer.
Connect with Ian Paul (@ianpaul) and Today@PCWorld on Twitter for the latest tech news and analysis.