The tablet craze has reached fever pitch. Every day, a new iPad 2 rumors arise. At the annual Mobile World Congress, major players such as HTC, LG, and Samsung unveiled their respective Android tablet offerings. And Motorola has captured headlines with its confirmation that the full-strength 3G + Wi-Fi version of the Xoom will sell for $800–$130 more than the first-generation iPad.
Amidst the chatter, some solid trends have emerged regarding the tablets shown at this year's Consumer Electronics Show in Las Vegas and MWC in Barcelona. Looking at them may help you figure out what to hope for from your impending tablet purchase. Come on…we know you want one.
Android Honeycomb vs. Android Froyo: Haves vs. Have-Nots
The upcoming Android tablet class appears to be split between those that will have Android 3.0 (Honeycomb) and those that will make do with something lesser.
With Google on the verge of widely releasing its Honeycomb SDK, Android 3.0 has clearly established itself as the operating system of choice for 10-inch Android tablets. And rightly so: Honeycomb was designed for the large-screen tablet experience, and from our early looks at the OS, it will support a more streamlined, user-friendly experience than today's Android 2.x permits.
The Motorola Xoom is the showpiece tablet–and Google's launch partner for Honeycomb. Perhaps in deference to it, some other tablets at MWC were not demoed with Android 3.0 on board; for instance, the Acer Iconia Tab A500, for example, is slated to ship–at least initially–with Android 2.3 (Gingerbread). But the vast majority of tablets coming at us sound as though they will use Honeycomb.
One odd exception to the 3.0 rule is the HTC Flyer, which will run a version of Gingerbread (2.4, in this case) with a single-core 1.5GHz processor. Granted, HTC has customized the Flyer's interface, porting its cell-phone-based Sense UI, with some changes to take advantage of the larger screen of tablets. Still the non-Honeycomb OS is a risky choice, since the Flyer must compete against the Honeycomb gang.
10-Inch vs. 7-Inch: Paperback vs. Hardcover
At CES, 7-inch tablets ruled the booths. At MWC, though, 10-inch models–a direct challenge to Apple's 9.7-inch iPad–have increased their visibility.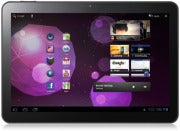 On 10.1-inch models, such as the Samsung Galaxy Tab 10.1 (introduced at MWC), the extra size permits the inclusion of widescreen displays, which are perfect for viewing high-definition video, as well as for viewing book and magazine content reproduced for electronic distribution.
But 7-inch tablets will persist, too. Like paperback books, they are lighter in weight, less expensive, and more portable–and significantly better suited for one-handed use. For their part, 10-inch models will remain pricier, less portable, and–for the foreseeable future–too heavy for one-handed use (though Samsung succeeded in delivering the Galaxy Tab 10.1 at 1.3 pounds).
Carrier Associations and Regionality
In the tablet universe, mobile carriers are front and center in the distribution process. Some tablets–even Wi-Fi-only versions–will sell without carrier affiliation. But the push is on for 3G- and 4G-enabled tablets, which will be sold with contract subsidies. As a result, you can pick up a Dell Streak 7 for $200–but you'll also be on the hook for two years of T-Mobile service.
We're also seeing a lot of products with regional tie-ins. I wouldn't be surprised, for example, if the Huawei and ZTE tablets shown at MWC never reached the U.S. market, instead focusing on Asian or European markets. The LG Optimus Pad, shown at MWC for the first time, is recognizable as the already-announced T-Mobile LG G-Slate.
Prices Aren't Dropping Yet
Apple remains firmly entrenched as the tablet price leader nearly a year after the iPad launched. The Motorola Xoom should come in at $600 for the Wi-Fi 32GB version, and $800 for the Wi-Fi+3G version, but the 32GB iPad Wi-Fi sells for $600 as well.
Things can go in two directions here. One possibility is that prices will tumble rapidly, as competition breeds the necessary price adjustments, as happened both with Android mobile phones and with the first-generation Samsung Galaxy Tab. Alternatively, prices may hold steady because of component shortages: The gold rush to make tablets, coupled with Apple's habit of locking up supplies of parts in advance of its launch, could create a perfect storm that will keep prices high for the foreseeable future.
Stock Android (Honeycomb) Rules
At MWC, none of the debuting Honeycomb tablets showed a unique interface overlay, à la Samsung's TouchWiz (found on the 7-inch Galaxy Tab and on company's phones), or HTC's Sense UI. Perhaps that's because no company besides Motorola has spent much time yet with the final Honeycomb SDK; the SDK entered preview mode just a month ago and has yet to be widely released.
On the other hand, Android 3.0 is Google's most polished effort yet, and it doesn't require the kind of overlays that Froyo does when that OS gets ported to a tablet. Also, overlays make performing quality assurance on a new version of the Android OS considerably more difficult–and that could delay rolling out OS upgrades as they become available.
Ultimately, software customization will be one of the few ways a manufacturer can distinguish its tablet from the pack. But such customization needs to avoid getting in the way of timely OS updates.
Headliners vs. Everyone Else
The vast majority of tablets worth talking about in coming months will be from the big-name players in mobile computing: Acer, Apple, Asus, HP, HTC, LG, RIM, Samsung, and Toshiba. But behind these heavyweights, numerous lesser companies will undoubtedly try their luck as well–and some of these may surprise us with their design, software, or price. I look forward to seeing what these wild cards have in store for us as 2011 unfolds.