Adobe's Photoshop celebrates its 21st birthday this month, and with 12 major releases under its belt GeekTech decided to take a brief look back at the graphics editor that could–hilarious cat picture included!
Born In The 80's
Photoshop, home of the PSD document format, started life back in the late eighties when PhD student Thomas Knoll was working on his thesis–a work detailing the processing of digital images. What started as a thesis soon evolved and in 1987 Thomas got to work on writing an image processing program for his Mac. His creation was created to work with grayscale images, and over a short period of time Thomas developed his program further, adding to it new digital editing processes. It didn't take long before his brother John Knoll was intrigued by the program, dubbed Display.
John, who was working at George Lucas' Industrial Light & Magic, suggested to his brother that they turned Display into a more feature-rich fully-fledged image editing program. From here the two worked together, combining Thomas' engineering background with his brothers design experience.
By 1988 the program had changed dramatically, with a whole host of new features and a name change to ImagePro. This name change was no mistake–the brothers decided to give the project another six months, complete a beta and attempt to sell it commercially with the help of the big guys in Silicon Valley.
One company decided to give the now Photoshop a go, but it wasn't Adobe. A company called BarneyScan were the first to take to the brothers software, deciding to include around 200 licensed copies of the program with their scanners. However, it wasn't long before Adobe did see the potential that Photoshop offered. In September of 1988 John gave a presentation to Adobe's internal creative team, and the rest is history.
New Kid On The Block – Adobe Photoshop 1.0
After the brothers struck a deal with Adobe their product saw an additional ten months of development time.
Finally, in February of 1990 version 1.0 of Photoshop was ready and launched exclusively for the Macintosh. It quickly defined what an image editing program should be – an impressive feat considering it only featured four named programmers on its splash screen, a stark contrast to today.
If you want to see the very first version of Photoshop in action, but with a modern twist, then check out this video of version 1.0 running on an iPhone.
Color The Path – Adobe Photoshop 2.0
The second version of Photoshop, codenamed Fast Eddy, arrived in June of 1991 bringing with it a whole host of new features, color splash screen included.
Version 2.0 demanded double the RAM of its predecessor, requiring 4 megabytes to run. A brief round-up of the features added in version 2.0 include the path tool, the pen tool. support for CMYK, and EPS rasterization.
Just like version 1.0, the second version was also a Mac exclusive affair. However, this all changed when 2.5 hit the market in November of 1992 – Photoshop had made its Windows debut. The most significant feature added to 2.5 was support for 16-bit file types.
Just Like An Onion – Adobe Photoshop 3.0
Codenamed Tiger Mountain, 1994's Photoshop 3.0 for both Windows and Mac saw the introduction of one of the programs most fundamental features: layers.
Layers made the work of many a photographer and designer easier, and although Photoshop was not the first image editing program to introduce layers, it most definetly made them a commonplace feature for any graphic software package worth its salt.
Despite now being over 15 years old, some users just haven't let go. Back in 2008 a cover of the New Yorker was created with Photoshop 3.0 – and not for retro-appeal, just because the illustrator loved version 3.0 so much.
Meow – Adobe Photoshop 4.0
Two years after 3.0 arrived, its big brother–codenamed Big Electric Cat–hit shelves. Version 4.0 introduced adjustment layers and macros (known as Actions). The addition of Actions allowed for the automation of generic tasks, adding again to the time-saving appeal of the Photoshop product.
Photoshop 4.0 also saw several interface changes, bringing it more in line with other Adobe products.
Lasso That Cargo – Adobe Photoshop 5.0
During May, 1998, Adobe shipped Photoshop 5.0, known as Strange Cargo while in development. With it came such important features as the magnetic lasso, editable type, and the history panel.
The History Panel allowed the user to undo an action multiple times to reach an earlier state–handy stuff!
1999's version 5.5 release saw the addition of Save For Web, a feature added specifically to format images for the Web, resulting in better compression.
More about the evolution of Photoshop continues, click through to see what changed in 6.0, 7.0 and Photoshop CS…
From Outer Space: Adobe Photoshop 6.0
Codenamed Venus In Furs, the first major release of the new millenium was version 6.0, which hit stores in September 2000.
Changes and new features introduced in this version include various changes to the user interface, the Liquify filter, Vector Shape support, and improvements to layer styles interface, to name a few.
Adding to the web-friendly features introduced in 5.5, version 6.0 added layer-based slicing–handy for web-layout work.
Paint The Sky – Adobe Photoshop 7.0
Version 7.0 of Photoshop, codenamed Liquid Sky, arrived in 2002.
It was the last major version with a numerical-only suffix, and also the last to run on the classic Mac OS 9. In 2003 Adobe released the Camera RAW plugin for Photoshop 7.0, adding the ability to manipulate digital data from an ever-growing range of cameras.
A Matter Of Name – Adobe Photoshop CS
In 2003 Photoshop had a slight name change due to becoming part of Adobe's growing list of creative applications. Adopting the CS (that's Creative Suite) suffix, the eigth major version, which was codenamed Dark Matter, saw a slew of new features.
The 2003 release saw the addition of customizabale keyboard shortcuts, along with the ability to now write text directly onto a set path. Other features introduced include support for larger files, new match color tools, a new layer management tool called Groups, shadow and highlighting effects and more.
In an effort to reduce piracy Photoshop CS was the first version of the program to require product registration.
One impressive feature added into Photoshop CS was the ability for the program to automatically detect when an image of a bank note had been opened or scanned in. This feature was introduced to reduce the ease at which fake currency could be created – clever stuff.
Eye Of The Monkey – Adobe Photoshop CS2
Known as Space Monkey during development, 2005's CS2 introduced the third version of the aforementioned RAW plugin. Space Monkey added support for HDR images and saw the introduction of the red-eye tool from Photoshop Elements.
Other tools added to CS2 included the spot healing brush, smart objects, the smart sharpen feature and the vanishing point tool – perfect for editing image perspectives. CS2 also saw the ability to select multiple layers at once – handy.
Enter The Matrix – Adobe Photoshop CS3
Known internally as Red Pill, CS3 landed in 2007. Noticably speedier, version 10.0 saw a slew of new features and saw improved support for Vista and native support for Intel-based Macs.
10.0 saw the quick select tool added, along with special image optimization tools for creating mobile-friendly files. Changes to the curve, vanishing point, brightness and contrast tools were also introduced adding to the growing range of image-editing niceities on offer.
A Change Of View – Adobe Photoshop CS4
Project Stonehenge, known to you and me as Photoshop CS4, hit shelves just one short year after CS3 in 2007. CS4 featured a number of user interface changes, making the programs design a more simplified and streamlined affair.
Version 11.0 of Photoshop, which added native support for 64-bit versions of Windows Vista, also welcomed in a range of new file management and display options.
CS4 also added improved raw image processing, the addition of the Masks panel, along with changes to the adjustment panel.
Leaping Forward – Adobe Photoshop CS5
The most recent version of Photoshop arrived last year, bringing with it such impressive features as Content-Aware fill and various 3D tools.
CS5, codenamed White Rabbit, also introduced 64-bit support for Mac OS X along with a range of new realistic painting tools.
The Camera Always Lies
So in 21 years Photoshop has come a very long way. What started out as a simple greyscale image handling program evolved, and grew in popularity – to "photoshop" has become a verb, just proving the cultural reach Knoll's program has today.
Photoshop has changed the way digital images are handled, altering the way in which photographs are created. That, and it gave us lolcats, as promised: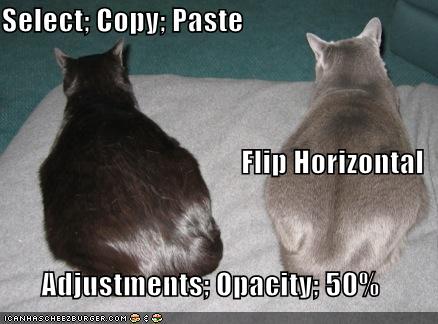 Geek Tip: Each version of Photoshop has an alternative splash screen, which bears its codename: to see it just go to the Help menu and hold down CTRL whilst clicking About.
Get your GeekTech on: Twitter – Facebook – RSS | Tip us off | Follow Chris Brandrick