Amazon has launched its streaming video service for paying Amazon Prime customers, making good on its rumored plans to duke it out with Netflix.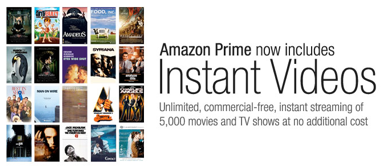 Amazon Prime Instant Video has a catalog of more than 5,000 commercial-free streaming movies and TV shows. The service is a free add-on for subscribers to Amazon's $79-per-year Amazon Prime membership, which grants free two-day shipping, no minimum order size requirement and a price reduction on one-day shipping.
You can watch Amazon's offerings on your Mac, PC or streaming media device, such as the Roku or an Internet-connect TV.
In case you were wondering, Amazon's catalog of movies and TV shows are not superior to Netflix's – in fact, they're essentially the same, except fewer. Most of the Amazon Prime Instant Video titles highlighted on the site – such as "Eyes Wide Shut," "March of the Penguins," and "Food Inc." – are all available on Netflix Watch Instantly, which boasts roughly 20,000 streaming video selections.
But Amazon's goal (at least for the moment) isn't besting Netflix's selection, or even becoming the leader in online streaming; rather, Amazon seems to be leveraging Amazon Prime. A market analyst told The Hollywood Reporter that bundling Amazon Prime with instant streaming is the company's way of offering "Netflix's core streaming feature as part of a more valuable, broader package."
The value is there for some, but not all. If you can't stop clicking "Buy Now with 1-Click" and would rather not slog through Netflix's endless array of subpar films, an Amazon Prime membership – which works out to be cheaper than Netflix's $7.99-per-month streaming-only plan – may be your best route. But if you aren't a frequent online shopper and do want to watch "Troll 2" (which you absolutely do and you know it), an Amazon Prime membership is only $1.35 less per month.
One small but pertinent selling point is the diversity among Amazon Prime's selections. Viewers get a choice of a subtitled or English-dubbed version of "The Girl Who Kicked the Hornet's Nest," for instance, which ought to please those who hate "reading" movies.
While I don't think thousands of Netflix subscribers will cancel their memberships based on this announcement, I do think that Amazon Prime Instant Video is a service to keep tabs on. If Amazon can weed through Netflix's heaps of rubbish and offer the brightest gems with the option to customize (subtitles for any film would be nice), Amazon may have just unveiled a potential Netflix-killer.