Is Apple finally ready to roll out its next-generation iPad? The Cupertino company will hold a media event on March 2–just over a week from now–to unveil its new tablet, according to a Tuesday report from All Things D. The Wednesday event will likely take place in San Francisco's Yerba Buena Center for the Arts, Apple's preferred location for major product announcements.
The new tablet, which many Apple watchers are calling the iPad 2, has been a hot rumor-mill topic for weeks now. Reports from numerous sources claim the upcoming iPad will be thinner and lighter than the current (and original) model, which began shipping last April.
Apple's second-gen slate will reportedly feature a dual-core processor, a better screen, more RAM and storage, a front-facing camera, and possibly a rear-facing camera. It'll run on both GSM and CDMA networks. And it'll ship late…or perhaps not. As if that weren't enough, iPad 3 gossip is now the rage, with some stories predicting a late-2011 launch for Apple's third tablet.
Whew! Pick and choose whichever predictions you find most believable. But if today's All Things D story is correct, we'll only have to wait a few more days to learn the truth about the iPad 2.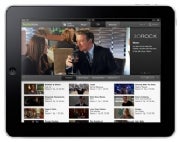 Unlike the original iPad, Apple's new tablet will face real competition in both the consumer and business markets. Motorola's highly-touted Xoom, one of many Android 3.0-based slates expected to ship this year, will be available this week from Verizon Wireless. The Galaxy Tab 10.1, a larger version of Samsung's original 7-inch tablet, debuted last week at Mobile World Congress in Barcelona. It also runs Android 3.0 and will ship in some markets in June.
Meanwhile, Research In Motion (RIM) plans to launch versions of its 7-inch PlayBook tablet for LTE (Long-Term Evolution) and 3G HSPA+ networks by the end of the year. WiMax and Wi-Fi editions of Playbook should be available next month. And Hewlett-Packard will ship its WebOS-based TouchPad tablet this summer.