It's time for another grab bag of hassle killers. This week I tell you how to get a disposable e-mail address to use as a spam magnet, how to turn off Windows 7's automatic window resizing, and how to recover data from a crashed drive.
Get a Quick and Easy Disposable E-Mail Address
Here's a common hassle: You sign up for some freebie, promotion, or service that requires your e-mail address–and suddenly your inbox is deluged with ads, notifications, and other spam.
Of course, without supplying an e-mail address, you wouldn't have been able to sign up. Indeed, in some cases you actually need to get e-mail from the company, if only to retrieve a registration code, coupon, or the like.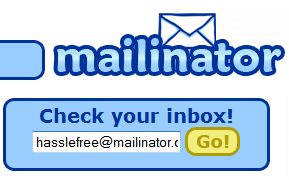 What you need is a disposable e-mail address, one that doesn't impact your inbox. Enter Mailinator, a free and easy service that gives you a temporary, Web-accessible e-mail address. (Fans of Phineas and Ferb should channel Dr. Doofenshmirtz: "It's my latest invention: the Mail-in-ator!!")
What I love about Mailinator is that it requires no registration or setup of any kind. You just think up an e-mail address on the fly (like when you're staring at a Web form), tack on @mailinator.com, and then type it in. For example: hasslefreepc@mailinator.com.
To check your e-mail, just head to the Mailinator site, enter your invented address under "Check your inbox," and then click Go. Presto: there's your mail. There's no password required (meaning this is a highly non-secure system, so use it only for things that don't require absolute privacy).
The only thing I couldn't figure out from Mailinator's FAQ page (which I highly recommend reading) is how long the mail (and accounts) are stored. A week? Indefinitely? I'm guessing it's the latter, meaning you should probably delete your messages when you're done with them. You also have the option of forwarding them to your primary e-mail account, which is handy.
This is a great little service, one that can really help cut down your spam.
Turn Off Automatic Window Resizing and Docking in Windows 7
When Windows 7 made its debut back in 2009, one of its most celebrated new features was automatic window resizing: drag a window to one edge of the screen and it would "dock" there while resizing to fill half the screen. Drag a window up top and it would enlarge to full-screen size. Drag it down again and it would return to its original size. And so on.
It's a pretty cool feature, one I use from time to time–but not everybody likes it. Indeed, some users might prefer to turn off the feature entirely, to resize windows as they see fit. Just one problem: where oh where in Windows 7's sea of settings do you find that particular one? In a place you might not expect.
Here's what to do:
Click Start, type Ease, then click Ease of Access Center.
Scroll down a bit and click Make the mouse easier to use.
Scroll down to and enable the last check box in that window: Prevent windows from being automatically arranged when moved to the edge of the screen.
Click OK.
Now your windows won't dock or resize when you drag them to the various hotspots.
Recover Lost Data From a Crashed Laptop Hard Drive
Reader Luis is trying to help a friend whose laptop hard drive started having boot problems. The friend replaced the drive, but now Luis is trying to help her recover prized family photos from it. He mentioned running Recuva' a great utility for such rescue missions, but can't figure out the logistics of reconnecting the bad drive to the laptop.
Specifically, he's trying to determine how to put Recuva on a bootable CD, restore access to the bad drive, and then find a home for the salvaged pictures.
This is easier than you think, Luis! What you need is an external enclosure for the old, displaced drive. These little housings cost no more than $15-20, and they turn a formerly internal hard drive into an external one, able to plug into any USB port. Just make sure you buy an enclosure that matches the size (i.e. thickness) and interface (i.e. IDE or SATA) of the drive.
Installing it in the enclosure takes no more than a few minutes, and from there you should be able to access the drive just like any other removable storage. The only uncertainty is whether or not Recuva can recognize it. If so, have at it–and just save any recovered photos to the new drive. If not, you might need to look at some more robust data-recovery utilities.
If you've got a hassle that needs solving, send it my way. I can't promise a response, but I'll definitely read every e-mail I get–and do my best to address at least some of them in the PCWorld Hassle-Free PC blog. My 411: hasslefree@pcworld.com. You can also sign up to have the Hassle-Free PC newsletter e-mailed to you each week.