The masters of the teardown at iFixit got its hands on Motorola's new Atrix 4G Android smartphone to peek under the hood see what makes it tick. Most of the specs were already known such as the device's 1GHz NVIDIA dual-core processor, 16GB onboard storage, 1 micro HDMI, 1 micro USB and a 960-by-540 resolution display. Nevertheless, it's always fun to see what the latest smartphones look like without their fancy coverings, so here's a quick look at what iFixit's teardown found in the Atrix 4G.
Mystery Part
The Motorola Atrix 4G has a part called the ST Ericsson CPCAP 2.2TC22. IFixit isn't sure what this part does, but the team sent it to Chipworks, an electronics parts analysis firm, to find out. Perhaps it has something to do with the 4G's dual-mode capability that allows it to display a Webtop on a laptop shell or large-screen monitor?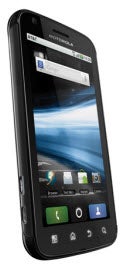 No dual-mode here
The Atrix 4G teardown didn't reveal any surprises with the phone's HSPA+ technology. The Atrix uses a Qualcomm MDM6200 and not the MDM6600 dual-mode CDMA/GSM chip the Verizon iPhone 4 was packing. The MDM6200 supports speeds of up to 14.4 Mbps.
Cheaper To Replace
Motorola did users a favor by not gluing the LCD display to the glass front, which means it will be cheaper for you to repair the phone should you need to. IFixit figures the vast majority of people who break their phone's front display only break the actual glass protecting the LCD and not the display itself. That means you only have to shell out for Motorola's new Gorilla Glass covering and not the more expensive qHD PenTile 960-by-540 LCD display.
Made for the DIY crowd
IFixit gave the Atrix 4G a 9 out of 10 for its level of reparability. Motorola's new smartphone earned points for having an LCD that is not glued to the LCD (unlike the iPhone 4); using very few screws and plastic clips; easily removable battery and no extra tools to necessary for switching out the phone's SIM or microSD.
Connect with Ian Paul (@ianpaul) on Twitter.