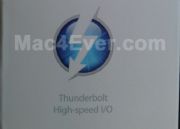 Apple's next-generation MacBook Pros may thicken the plot to kill USB, using Intel's Light Peak optical technology and rebranding it as "Thunderbolt."
A trio of rumors suggest that Apple is preparing a high-speed port called Thunderbolt for its new MacBook Pros. These findings include a German spec sheet, an English spec sheet and images of marketing materials and the port itself, which looks like a Mini DisplayPort with a thunder bolt icon. The connection between Light Peak and Thunderbolt is based on previous reports that Apple pushed Intel to develop the technology.
What is Light Peak?
Light Peak is an interconnect technology that Intel announced in late 2009. By using fiber optics instead of the electrical cables found in USB, Light Peak cables can be thinner, more flexible and able to travel up to 100 meters, according to Intel. And of course, they'll be fast, supporting transfer speeds of 10 gigabits per second initially, and 100 gigabits per second within a decade. In January, however, Intel announced that the first generation of Light Peak cables would use copper, making them slower and less reliable over long distances.
Although the rumored MacBook Pro input looks like Mini DisplayPort, Intel has said that Light Peak could also make use of USB 3.0 ports with additional components.
USB Killer?
Intel hasn't been shy about its intentions with Light Peak. "We view this as a logical future successor to USB 3.0," Kevin Kahn, an Intel senior fellow, said at an Intel Developer Forum in April 2010. "In some sense we'd … like to build the last cable you'll ever need."
However, Intel has avoided saying that Light Peak and USB 3.0 are direct competitors, insisting that they are complimentary and could even run together on a single cable. Despite this public stance, Intel has been noncommittal with USB 3.0. The company's latest Sandy Bridge chipset doesn't include native USB 3.0 support, despite speculation to the contrary.
Light Peak and Apple: The Pieces Come Together
Although Intel has been talking about Light Peak for a year and a half, the company was strangely silent about its progress at the Storage Visions conference in January. This isn't too surprising if Intel is really partnering with Apple to debut the first Light Peak laptop. Apple is known for its secrecy and would obviously want Intel to clam up before the next-generation MacBook Pro launch. Apple may announce the new MacBook Pros on Thursday.
The missing piece is the other end of the connection — that is, the external drives or other devices that take advantage of Light Peak's high transfer speeds. Perhaps Apple will introduce a Time Capsule hard drive with Light Peak support. We'll see what this week brings.
Follow Jared on Facebook and Twitter for even more tech news and commentary.