A British judge Thursday approved Sweden's request to extradite Julian Assange, although the embattled WikiLeaks founder will appeal.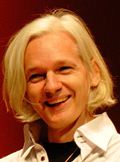 District Judge Howard Riddle rejected arguments that Assange would not get a fair trial in Sweden due to the country's custom of excluding press and the public from sexual assault trials.
Riddle also said it is a "reasonable assumption" that Assange "was deliberately avoiding interrogation" before the period he left Sweden, when prosecutors were in negotiations with his attorney to question him.
Assange has seven days to appeal the ruling. If he doesn't appeal, extradition could proceed in 10 days, Riddle said during the reading of the judgment in Belmarsh Magistrates' Court in southeast London. The 56-page ruling has been published online.
The 39-year-old Australian is accused of unlawful coercion, sexual molestation and rape for incidents with two women last August that Assange maintains were consensual. He still has not been charged by Swedish prosecutors, a fact his attorneys used to argue against extradition. If he is charged and convicted, Assange could face a maximum of four years in prison.
Riddle rejected arguments made by Assange's attorney, Geoffrey Robertson, that the four offenses which his client has been accused of are not offenses under British law. The offenses are extraditable, and the European Arrest Warrant under which Assange surrendered in December was properly issued, Riddle said.
In other parts of his ruling, Riddle called Assange's Swedish attorney, Bjrn Hurtig, an "unreliable witness." Hurtig had claimed in earlier testimony that Swedish prosecutor Marianne Ny had made no effort to interrogate Assange around the end of September.
Hurtig later retracted the claim, saying he had made a mistake, but Riddle said "the statement was a deliberate attempt to mislead this court."
"I do not accept that it was a genuine mistake," Riddle said. "It cannot have slipped his [Hurtig's] mind."
Assange's lawyers suggested during the two-and-a-half day extradition hearing held earlier this month that Sweden's pursuit of Assange is connected to WikiLeaks' continuing release of some 250,000 secret U.S. diplomatic cables.
Assange has been free on bail since December on the condition he surrender his passport, wear an electronic monitoring device and regularly check in with police. Assange has been staying at a manor in the East of England owned by Vaughan Smith, founder of the journalism organization the Frontline Club.
The U.S. Attorney General's office has said Assange has been under investigation to determine if he played a role in illegally obtaining classified U.S. material, but no charges have been filed. WikiLeaks' release of the cables provoked strong statements from some U.S. politicians on the right: Former Arkansas Governor Mike Huckabee called for the death penalty for those who released the cables, while former vice presidential candidate Sarah Palin said Assange should be hunted down with the same urgency as al-Qaeda and Taliban leaders.
Assange's legal team seized on the comments, saying that if Assange is extradited, Sweden would face intense pressure from the U.S. However, if the U.S. filed an extradition request with Sweden, the British government would have to give its approval to the extradition.
Send news tips and comments to jeremy_kirk@idg.com