For prospective Xoom buyers, the news just keeps getting better.
Earlier today, we heard Verizon had come to its senses and gotten rid of the ridiculous data plan requirement it had originally attached to Motorola's new Honeycomb tablet. Up till this morning, Big Red had said you'd have to sign up for at least a month of 3G service to get a Xoom, even if you only wanted to use Wi-Fi — a catch that would've cost you an extra 55 bucks at checkout. Thankfully, that condition is history.
Now, I'm happy to confirm that another potential pitfall for the Motorola Xoom has been averted: The tablet is untainted by Verizon's typically unavoidable bloatware.
That, my friends, is a mobile miracle.
Motorola Xoom and Verizon: No Heavy Meddling
Plenty of us have been plagued by Verizon's notorious smartphone bloatware — you know, the crap the carrier loves to load up on its phones and make difficult for us users to uninstall. Devices like the Droid X are packed with junk like Visual Voicemail (a less-good, subscription-based version of Google Voice), VZ Navigator (a less-good, subscription-based version of Google Maps), and random services like Amazon MP3 and Blockbuster that you may or may not actually want. It's a way for Verizon to make extra money, of course, but from a user perspective, it's incredibly obnoxious.
(To be fair, other carriers are guilty of this, too — but the Xoom's a Verizon device, so we'll focus our bloatware-induced rage at them for today.)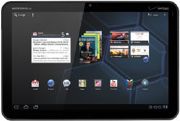 The Motorola Xoom, amazingly, escaped the production line unscathed by the claws of Verizon's bloatware beast. The tablet does come with the standard suite of Google's Android apps, such as Gmail, Maps, Places, and Latitude. But when you're buying an Android device, you expect that; these apps are essentially part of the Android operating system, and with the exception of maybe Latitude, they're pretty damn good. Visual Voicemail? Not so much.
Now, the Xoom does have a bit of bloatware, but only in the form of two preloaded games: Cordy and Dungeon Defenders. Back at Google's Android Honeycomb event, the Android team talked about plans for including tablet-optimized games on the Xoom. The practice wouldn't bother me as much if the programs could be easily removed — both Cordy and Dungeon Defenders are oddly designated as "system applications" — but they're still far less objectionable than the useless upsell-driven clutter like City ID and V Cast Media Manager.
The only other unusual thing I've noticed lurking in the Xoom's storage is a small collection of music — a couple dozen MP3s, all of which can be easily deleted. I guess it's an aural starter pack of sorts, designed specifically for the kind of person who likes Cheap Trick, Kenny Chesney, and Los Lonely Boys (sorry, guys — no Bieber).
All in all, it's a welcome surprise to see a largely meddle-free precedent being set for the new generation of Android tablets. Here's hoping the trend continues.
JR Raphael is a PCWorld contributing editor and the author of the Android Power blog. You can find him on both Facebook and Twitter.