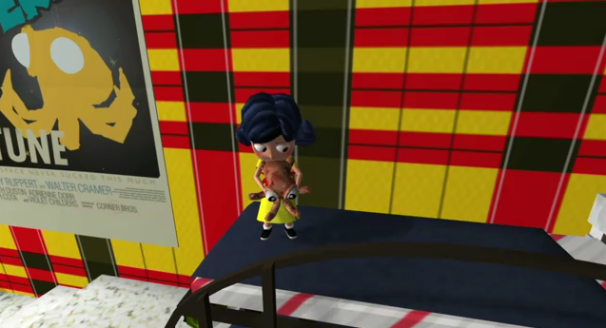 Despite Microsoft's initial disapproval of amateur hackers tampering with the Kinect software and developing custom drivers, the developers behind indie game OctoDad have managed to hack their quirky physics-based puzzle game to allow full motion control; given that OctoDad is all about acting like an uncoordinated octopus strapped inside a human suit, we thought it might be fun to showcase the game in action. Despite blizzard conditions in Illinois the development team at DePaul University were kind enough to record a short video for us of their hack in action, so check it out!
Of course if you missed it last year, OctoDad is a free game available on PC (with a beta version for Mac OS X) that was developed by a group of nineteen students enrolled in the Game Development program at DePaul University. Last June the team began developing a physics-based 3D puzzle game that would eventually become OctoDad, the perplexingly mundane adventure of a well-meaning octopus trying to muddle through middle-class life in the suburbs without letting his friends and family know he's, well…an octopus.
To keep up the charade players must control each of OctoDad's four limbs (he's smushed two tentacles into each trouser leg, you see, and camouflaged two more as a dapper moustache) independently while tackling herculean challenges like fixing the sink, cleaning up the garbage and walking down stairs without slipping up and revealing OctoDad's secret cephalopod identity.
In January OctoDad was selected by a panel of judges to be one of eight games featured in the Independent Games Festival Student Showcase, beating out more than 280 entries from across the country. All Student Showcase winners will attend the 25th annual Game Developer's Conference in San Francisco next week, and one team will walk away with a $2,500 prize for Best Student Game.
Everyone here at GeekTech HQ is a big proponent of smart hacks and smarter humor, and we encourage you to take a moment to check out Octodad and the rest of the Student Showcase here.
Like this? You might also enjoy…
Get your GeekTech on: Twitter – Facebook – RSS | Tip us off