Search behemoth Google says it's taking a stab at raising the bar on search results by penalizing Websites that offer copycat content and sites that are clearly trying to game the company's search algorithm. Google announced changes to its search algorithms, in an effort to improve rankings of Websites offering high quality content. The move is set to impact over 10 percent of U.S. search results and is widely seen as a direct attack on so-called 'content farms' that generate articles based on popular search queries.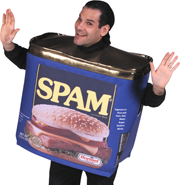 "This update is designed to reduce rankings for low-quality sites — sites which are low-value add for users, copy content from other websites or sites that are just not very useful," Google engineers wrote on the company's official blog. "At the same time, it will provide better rankings for high-quality sites — sites with original content and information such as research, in-depth reports, thoughtful analysis and so on," the engineers explained.
The search algorithm update has been in the works for over a year and Google says it has been working on this specific change for the past few months. The update does not rely on user-generated information from Google's Personal Blocklist Chrome extension, which was launched last week.
Google changes its search algorithm on a regular basis (around 500 changes per year), though most changes are minor and unnoticeable to most users; this time however, the changes will impact just under 12 percent of U.S. search results (the changes will be rolled out across the globe in the future).
The War On Content Farms
Google did not mention content farms in the algorithm change announcement, though the company said last month it is has shifted its attention to content farms, "which are sites with shallow or low-quality content." The new site ranking system is seen as a direct attack to these sites, which were not named either by the search giant.
TechCrunch's Michael Arrington speculates that some of the companies to be affected by Google's change are "sites like Demand Media, Associated Content and Mahalo". Claire Cain Miller of The New York Times also mentioned content farms like eHow and Answerbag.
Demand Media, one of the suspected culprits of content farming, replied to Google's algorithm changes in a blog post after the changes took effect in the U.S. search rankings. Larry Fitzgibbon, Demand Media's EVP of Media and Operations, writes that results are mixed so far: "As might be expected, a content library as diverse as ours saw some content go up and some go down in Google search results."
"It's impossible to speculate how these or any changes made by Google impact any online business in the long term – but at this point in time, we haven't seen a material net impact on our Content & Media business," Fitzgibbon added.
Follow Daniel Ionescu and Today @ PCWorld on Twitter