Groupon has finally launched its China site at GaoPeng.com, with Chinese Internet giant Tencent as one of its major backers.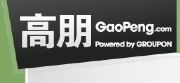 The U.S. company entered China's burgeoning Internet market with the Monday launch of the new site, although it currently offers no discounted deals. Users can only sign up to subscribe to the site's e-mail newsletters.
Discounts will be initially offered in Beijing and Shanghai, with the service eventually moving on to other major cities. The site advertises discounts that run from 50 to 70 percent off.
In English, the term "GaoPeng" can be translated as "friend in a high place."
Tencent, the operator of China's biggest instant messaging client QQ, is supporting GaoPeng.com through an investment fund. The partnership "combines Groupon's global-buying experience with Tencent's in-depth knowledge of Chinese online communities," Groupon said in a statement released Monday.
"We hope to work together with other local group-buying portals to jointly develop this emerging market, which will ultimately benefit the consumers and merchants in China," said Yun Ouyang, the head of GaoPeng.
GaoPeng is also being backed by Yunfeng Capital, an investment fund that Chinese e-commerce giant Alibaba Group CEO Jack Ma helped found.
Groupon is hoping to tap the new e-commerce trend in China known as "group buying," which it helped popularize in the U.S. Group buying works by offering a range of discounted deals on restaurant meals to even clothing and health spa services. Customers can only obtain the deals, however, if enough users buy in. When the threshold is reached, the deal is given out to all those who participated.
China, with its 457 million Internet users, represents the next major market for Groupon. But competition is already fierce among local rivals. The country has more than 1,700 group buying sites. Even the China-based domain name Groupon.cn is already being used by another group buying site.
Until now, Groupon was quiet about its plans for China. The company had set up an office in Beijing that has been actively recruiting employees. There was also speculation that it was facing trouble trying to launch its services in the country because GaoPeng.com went online earlier this month, but then abruptly shutdown the next day.
Several Chinese group buying sites have also said they will not re-hire any employees who have gone to work for Groupon. The competitors allege Groupon has been poaching their staff through headhunting firms. Groupon has not responded to the accusations.
Other U.S. based Internet firms like eBay, Amazon, and Google have also entered the China market, only to struggle to find the success they envisioned. Local competition and, at times, Chinese censorship laws have all been cited as reasons.
But analysts say Groupon has made a smart move by partnering with Tencent, giving it a backer that understands the Chinese market. Tencent's QQ client has more than 655 million active accounts.