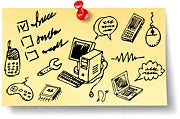 Everyone has a bucket list, a succinct summation of all the things they'd love to do before they shuffle off this mortal coil. Here at PCWorld, however, we're nerds, so we put our own spin on the idea.
Instead of climbing Everest, we try for the world record on Donkey Kong. Instead of seeing Machu Picchu, we build our own PCs.
We asked around the PCWorld office and polled our Facebook friends to assemble a list of the 50 best tech-oriented things to do before one's final hour. And some of the biggest geeks on the staff compiled the list's five categories: PCs, Mobile, Gaming, Hacking, and Tech Tourism.
Tell us what you would add or delete from the list in the comments area below, or on the PCWorld Facebook page.
PCs
Compiled by David Daw
Mobile
Compiled by Armando Rodriguez
Gaming
Compiled by Nate Ralph
Hacking
Compiled by Nick Mediati
Tech Tourism
Compiled by Alex Wawro
Who Are These Geeks and Nerds?
David Daw is a PCWorld intern covering everything from 3D printing to the Egyptian revolution. He's also a grad student at San Francisco State University. Find him on Twitter @davidhdaw.
Nick Mediati is PCWorld's resident security/OS/browser nerd. He also runs PCWorld's GeekTech blog. Catch him on Twitter @dtnick.
Nate Ralph covers desktops and the shiny bits inside them. When he isn't testing the latest tech, he can usually be found soaking up rays on the sunny shores of Azeroth, blasting Internet spaceships in Eve Online, or futzing with the console blockbuster du jour. Keep tabs on his exploits via Twitter @NateRalph.
Armando Rodriguez is a PCWorld intern focusing on news and reviews of Android phones, apps, and tablets. Catch him on Twitter @megapenguinx.
Alex Wawro, editorial assistant in the PCWorld Test Center, investigates everything from smartphone security to online dating scams. Track him down on Twitter @awawro.
This article was created with the assistance of Patrick Miller and Albert Filice of PCWorld, as well as some of our friends on the PCWorld Facebook page.