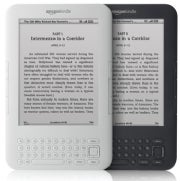 The price of the popular Kindle e-reader has plummeted dramatically over the past two years, as growing competition from Apple's iPad and competing e-readers like Barnes & Noble's Nook has inspired some impressive price-cutting on Amazon's part. The Kindle, which cost $350 in February 2009, is now as low as $139 for the Wi-Fi-only version.
So where does it go from here?
Possibly to zero by the end of the year, predicts Wired co-found Kevin Kelly in a February 25 post on his Technium site. Kelly's blog includes the chart below that dramatically illustrates the Kindle's price free-fall since 2009. (The 2011 data, of course, is projected.)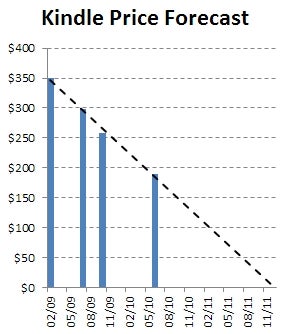 Kelly acknowledges that pundits before him have spotted the Kindle's consistent price decline. Blogger John Walkenbach, for instance, predicted the e-reader would be free by November 2011. When Kelly asked Amazon CEO Jeff Bezos about the Kindle's southward march, Bezos reportedly smiled and said, "Oh, you noticed that!"
A coy response doesn't mean free Kindles by the holidays, of course. But would a free strategy make sense for Amazon?
Business Insider's Jay Yarow doesn't see it happening, but adds that Amazon may very well offer deeply-discounted Kindles to its Amazon Prime customers, who currently pay $79 per for free, two-day shipping and a new Netflix-like video-streaming service.
Kelly believes a free-Kindle strategy makes a lot of sense.
"I don't know if this is Amazon's plan, but it should be. It brilliantly feeds into Bezo's long-term strategy of nurturing extreme customer satisfaction. What could be more satisfying that a free Kindle, free movies, and free 2-day shipping for $80 a year? If the past is any indication of future events, expect an as-if-free Kindle this fall in time for the holidays. Brilliant indeed!"
Other suggestions? How about a free Kindle with the purchase of (insert number here) Kindle books? Your ideas are welcome.
Contact Jeff Bertolucci via Twitter (@jbertolucci ) or at jbertolucci.blogspot.com