Why hello, I didn't see you there! You know, we talk a lot of game here at the PCWorld offices about all the great books we just can't find time to finish; after months of nonstop moaning, we've decided to suck it up and start talking texts in an effort to publicly shame ourselves into scholastic success. Thus it is my great pleasure to welcome you to the inaugural GeekTech Geek Reads post!
For our first geek read, we'll be cracking the spine of The Hacker Crackdown: Law and Disorder on the Electronic Frontier. We've devoted a ton of time and space to covering amateur hackers here on GeekTech, so we thought this nonfiction account of the rise and fall of hacker culture at the twilight of the 20th century would be an appropriately awesome way to kickstart our Geek Reads club.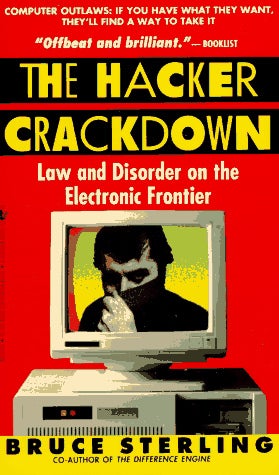 How awesome is this book? Here's a sneak peek: "This is a book about cops, and wild teenage whiz-kids, and lawyers, and hairy-eyed anarchists, and industrial technicians, and hippies, and high-tech millionaires, and game hobbyists, and computer security experts, and Secret Service agents, and grifters, and thieves." That's the first sentence in a fascinatingly frank firsthand account of life on the legal fringes of cyberspace; highlights include the fall of the Legion of Doom, the Knight Lightning trial of 1990 and the rise of the Electronic Frontier Foundation.
In the spirit of open-source author Bruce Sterling has graciously released the digital version of The Hacker Crackdown for free to anyone who wants it, and thanks to Project Gutenberg you can find the full text available in a variety of file formats here.
If you've ever been curious about how the wild west of the World Wide Web was won, we encourage you to download a copy for yourself and dive in alongside faithful GeekTech writers like Nate Ralph, David Daw and myself.
The book is divided into four sections; we plan to read through at a leisurely pace (say, a section a week) and discuss it here on the GeekTech blog (follow us via Twitter, Facebook, or RSS to make sure you don't miss a beat). Curious readers should look for our first post later this week, while we look forward to your comments on the book!
Get your GeekTech on: Twitter – Facebook – RSS | Tip us off