At a Glance
Expert's Rating
Pros
Fast for a netbook
Best keyboard in the business
Cons
Not an ultraportable, despite Lenovo's characterization
Our Verdict
This is not an ultraportable, though Lenovo refers to it as such; rather, it's one of the best netbooks ever.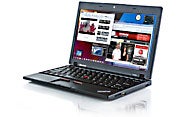 Lenovo calls its ThinkPad X120e an ultraportable–and its new AMD Fusion CPU certainly endows the laptop with much better performance than netbooks have achieved in the past. But it's nowhere near as fast as the average Intel Core processor-based ultraportable. Lenovo has done a magnificent job giving the keyboard a full-size feel, but the 1366 by 768, 11.6-inch display suffers in comparison to the 12- and 13-inch displays of other ultraportable laptops. Given the choice between characterizing the X120e as an underpowered ultraportable or as a wonderful netbook, I'm going with the latter.
Lenovo is king of the keyboard, and the X120e has the best netbook keyboard ever–nothing else comes close. The feel is magnificent, with none of the finger scrunching common to the breed. The touchpad is comfortable and perfectly responsive, and old-school Lenovo fans will be happy to learn that the company includes a TrackPoint eraserhead cursor control.
The ThinkPad X120e comes in various configurations starting at $399 for an E-250 Fusion CPU, 2GB of memory, and a 250GB, 5400-rpm hard drive. Our X120e test system came equipped with the slightly faster E-350 CPU, 4GB of memory, and a 300GB, 7200-rpm hard drive. Those burlier components carried the X120e to a WorldBench 6 score of 57–a far higher mark than traditional netbooks tend to receive, but lower than a typical pricier ultraportable would get. The stronger configuration of our review unit ratcheted up the price to $650–pretty steep for a netbook.
Video performance with the Fusion CPU/GPU ranges from excellent to mediocre. With codecs supported by the graphics hardware (Radeon HD 6310), it delivers smooth playback of 1080p video. With codecs handled by the CPU alone, though, it's limited to 720p, and even then playback sometimes isn't as smooth as you might like. Gaming frame rates approached playable, falling just shy of 30 fps in Unreal Tournament at 800 by 600 at medium resolution. That's a tantalizing near-miss, but it's still a miss. Simpler games will fare better.
The X120e carries the netbook-standard three USB 2.0 ports, but business users will appreciate that Lenovo includes both VGA and HDMI video outputs. The ethernet supports gigabits speeds, you get Bluetooth on board, and you can choose between b/g/n and a/b/g/n wireless.
The unit is a tad larger than the average netbook at 11.1 inches wide, by 7.45 inches deep (add about 0.75 inch for the six-cell battery), and 1.16 inches thick. It's also a bit heavier at 2.93 pounds and 3.31 pounds (when equipped with a three-cell or a six-cell battery, respectively). Our test configuration's six-cell battery powered the unit for nearly 5.5 hours–impressively long, considering the performance.
The system we tested came loaded with Windows 7 Professional, but you may choose Home Premium 32-bit or 64-bit, if you prefer. Office 2010 Starter is on board, and Norton Internet Security is available for user installation.
Lenovo's marketing preferences aside, the X120e is not an ultraportable: Its screen is too small and its performance is too slow. We're not even sure why the company would want to match it against full-fledged ultraportables. But the X120e is the best netbook going. Though it's a little pricey, one typing session will convince you that the $450 starting price for this model is more than worth it.