It's almost time for Apple's special event, when the second generation iPad — dubbed the iPad 2 — is expected to debut. Will the next iPad have two cameras? Will it be thinner, lighter, faster and maybe even cheaper? All of these questions will finally be answered. So as we get ready for Apple's special event, here's a look at 10 questions Apple will hopefully be ready to answer today.
When will the iPad 2 ship?
The original iPad was announced Jan. 27, 2010, and then went on sale April 3. If Apple follows a similar schedule in 2011, that means the iPad won't show up on store shelves until early May with a preorder window starting around mid-April. Then again, now that all the supply channels have been established, perhaps the iPad 2 will land on store shelves sooner than that.
How many cameras?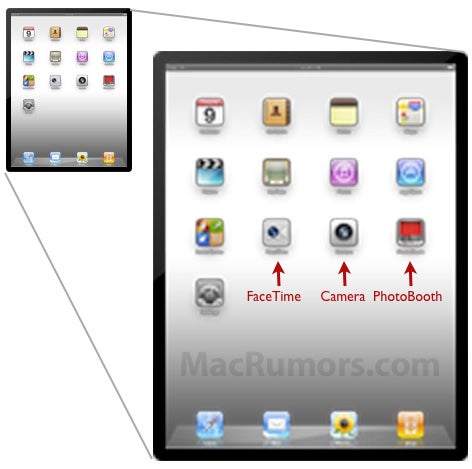 Most critics are pretty sure the next iPad will have a front-facing camera for FaceTime video chat, but the jury is still out on a rumored rear-facing camera. MacRumors got its hands on a screenshot purportedly showing the next iPad rocking a FaceTime icon, the OS X app Photo Booth and the regular camera app found on the iPhone.
A rear camera for the iPad might be cool, but are you ready to start snapping pictures by holding a 10-inch tablet in front of your face?
What's the resolution?
Another hot topic for debate is whether the next iPad will have an improved resolution display. More specifically, will it jump to a Retina Display like the iPhone 4's 326 pixels-per-inch versus the current iPad's 132 ppi? Some rumors suggest the iPad 2 could get a resolution boost to 2,048-by-1,536 from 1,024-by-768. But can Apple still maintain the $499 price point for the 16GB Wi-Fi only iPad if it has such a dramatically better, and presumably more expensive, display? With a slew of Android tablets coming this year, one of Apple's biggest advantages is a lower price tag for its base model.
What's the price?
Will Apple be able to keep the same pricing ranging from $499 to $899 (depending on storage and connectivity options)? The second-generation iPad might be a little too early for Apple to be able to bring the price down in a significant way, but you never know.
Refresh or revolution?
Apple hasn't even released iPad 2 yet, and people are already speculating about an iPad 3 in September. The iPad 3 will purportedly be the major iPad release for 2011 while iPad 2 would be a minor refresh, according to Cult of Mac, which spoke with an "Apple staffer."
If, as expected, the iPad gets cameras, and is thinner, lighter and faster, that's a pretty significant upgrade. What's a rumored iPad 3 going to do to top the iPad 2 just six months later? Include Watson-like artificial intelligence?
Any iOS previews?
Apple's annual Worldwide Developers Conference is just a few months away — it's usually held in June — so Apple might have parts of an expected iOS 5 to show off. At the very least we should find out more about iOS 4.3 and when it will be rolling out to users.
Mobile Me?
Apple is reportedly working on a Mobile Me revamp that will include an online version of iTunes with streaming capabilities for your music and video. The company is also expected to offer its traditional Mobile Me services — photo storage and calendar, contacts and mail sync — for free. A mobile device announcement would be a perfect time to talk about this.
How much lighter?
The next iPad is expected to be thinner and lighter than the original. If that's true, it will be interesting to see how much excess weight Apple can shave off the iPad's current 1.5 to 1.6 pound heft. Reading in bed or on the couch with the iPad is great, but after about 20 to 30 minutes, holding the tablet up starts to double as a workout.
Cool new apps?
Apple's iOS events are always a great time to get a sneak peek at new apps coming to the App Store. At the original iPad launch in 2010, we saw new apps from Electronic Arts, Gameloft, Major League Baseball and The New York Times. Now that developers have had more than a year to work with the iPad, what kind of cool third-party tools might we see this time around?
Will the lion roar?
This might be an iOS-focused event, but Apple recently released a beta version of OS X Lion for developers to try out. Wednesday might be a great day to show off a little bit more of what to expect when Lion is released this summer.
Only a few hours until we know for sure. If you want to follow along with Apple's iPad release be sure to check in with Macworld's Apple event live blog at 10 a.m. Pacific.
Connect with Ian Paul (@ianpaul) and Today@PCWorld on Twitter for the latest tech news and analysis.