Yelp is positioning itself as the company that wants to have its cake–and eat everybody else's too.
In an interview with The Telegraph , Yelp CEO Jeremy Stoppelman has complained that Google is filching Yelp user reviews for Google Places–which, Stoppelman claims, is of no value to Yelp–and has offered an ultimatum instead of a compromise: It's our way or you're outta the search index.
"We are unhappy with the way Google uses our users' review on its Places page. However, there is no solution to the problem…Google's position is that we can take ourselves out of its search index if we don't want them to use our reviews on Places…. But that is not an option for us, and other sites like us–such as TripAdvisor–as we get a large volume of our traffic via Google search…We just don't get any value out of our reviews appearing on Google Places and haven't been given an option other than to remove ourselves from search, how to improve this situation," Stoppelman told The Telegraph.
Google Places aggregates information about businesses published by third-party Web sites into a central Google location, either on the Web or a smartphone app. And while Places does not publish full-text versions of Yelp reviews, Yelp sees Places' local search functionality as competition. However, the free site referrals received through ordinary Google.com searches are not, in Stoppelman's eyes, competitive.
Does that make sense to you?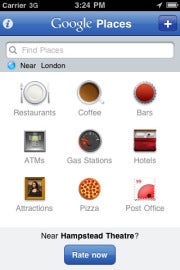 It gets even more muddled: Yelp has been removed from Places results–but not ordinary search–before. In August of last year, Google stated that "neither [Yelp nor Google] was happy with the data as it appeared, so we reclassified results from Yelp while we reviewed our options." Then the companies reached an agreement–an agreement that Yelp doesn't agree with anymore.
And then, when Google was being accused with placing undue prominence on its own search results and thereby damaging other companies, Stoppelman said that Google was "trying to leverage its distribution power to take an inferior product and put it in front of the user." That's waffling, and, if taken in the context of the present-day argument that Yelp is too prominent on Places, Stoppelman could be seen as saying that Yelp's reviews are the inferior product in question.
It gets better. Google almost bought Yelp for a reported $500 million at the end of 2009. Yelp backed off. But now, according to Stoppelman's statement to The Telegraph, Yelp is "getting to the size where very few companies can afford to buy us. Our annual revenues are getting to the point where can be a public company…"
Again, take that in context: Yelp claims Google Places is destroying its business … but Yelp still has the leverage to go public.

As for the current squabble, Google is playing it cool. "We can't comment on conversations with partners, but as we've said before, our goal with local search is to help Google users find the local information they're looking for online," a spokesperson told The Telegraph. "Each day we send millions of customer referrals to local businesses and third-party websites, such as review sites, through local search. The overwhelming feedback we get from users, business owners and website owners is that they value the answers and traffic they receive from local search."
While I'm all for the occasional David v. Goliath story, especially when it comes to the "Do No Evil (Except Maybe Sometimes)" company, Yelp doesn't have a case here. If Google's ultimatum of stay in Places or lose the index altogether is accurate, I support that. Yelp needs to make up its mind.