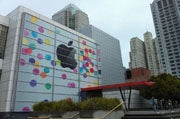 At today's Apple event, Steve Jobs wasted no time jumping straight to the point: "We're here to talk about Apple's third post-PC blockbuster product."
As expected, the new iPad 2 is slimmer and lighter. It weighs 1.3 pounds, compared to the first-generation model's 1.5 pounds; and at 8.8mm thick, it's one-third slimmer than the half-inch-thick original iPad. It packs dual cameras for video chat and video/still images, too. And you get a faster, dual-core Apple A5 processor. The new iPad will ship with iOS 4.3, which will also be available for download on March 11 for existing iPads.
What we didn't get: Jobs didn't mention the resolution–not unexpected based on the rumor mill, but disappointing nonetheless (the iPad 2 features the same 1024 by 768 resolution as the original iPad). I can't help but wish Apple would push the resolution, as the company did with its iPhone 4. Also, at the event, there was no mention of a bump in memory; we'll have to wait until after the event or until the spec sheet hits Apple's site to know if there's an uptick there, too.
Jobs passed comment about the pricing of iPad and its competitors, noting that even with 3G, five of its six configurations were still less expensive than the $799 price tag of the Motorola Xoom, the flagship Android 3.0 Honeycomb tablet. He noted the difficulty Apple's competitors are having trying to get products out the door, let alone achieving Apple's comparatively affordable prices.
The iPad 2 will keep the same prices as the first iPad, which means Apple maintains its leading position in the current tablet market's price hierarchy. And by upping the processor to a dual-core model and adding the dual cameras, Apple has joined the competitive specs of the 2011 tablet class; all of the Honeycomb Android models will be dual-core, for example.
Apple also retains a solid lead in the app space: Jobs noted that 65,000 of the 350,000 apps in the App Store are optimized for iPad; by comparison, Android Market has maybe 100 Honeycomb apps (well, Jobs noted the competition had 100; I've not actually found 100 listed on Google's own Android Market when accessed via the Motorola Xoom).
The three-prong punch of price, spec boosts, and app availability should be enough for Apple to maintain its momentum and market lead. Apple said it has 90 percent of the tablet market, which is in line with numbers I've seen from DisplaySearch.
That Apple would take the necessary steps to stay ahead of the pack is unsurprising; Apple is an old-pro at innovation at this point, and knowing what it takes to command a market.
What was surprising was that a significant portion of Apple's event was devoted to showcasing new apps from its software portfolio that have been ported from the Mac to the iPad. It also should be enough to let Apple continue to evolve its business away from Mac OS X-based PCs. PhotoBooth, iMovie, GarageBand all migrate to iPad. And iMovie and GarageBand are each going to cost just $4.99, far less than their Mac OS counterparts ($15 each on the Mac App Store).
By moving core Apple apps over to iPad, too, it seems to strengthen the case for the iOS-ification of Mac OS X and, by extension, its applications. We've already noted that Mac OS X Lion, the next major update to Mac OS X that was released recently to developers as a beta, is taking cues from iOS. That Apple is bringing its apps downstream to iPad gives hints of the coming convergence. And by doing so, Apple is clearly betting on scale–15 million iPads sold in the first nine months–as a bigger platform for its software than its own MacOS has been able to provide over the years.
We can only hope that Apple migrates more of its apps to iPad to complete the circle.