You can save the Apple fanboy flames. I just call 'em like I see 'em. Apple CEO Steve Jobs took a hiatus from his hiatus to show up and share the iPad 2 with the world today. While the tablet may not be revolutionary, it is enough to keep the momentum going for Apple, and make it very difficult for other tablet PCs to compete.
Three weeks ago, Daniel Ionescu–one of my PCWorld peers–wrote a comparison of the Motorola Xoom and HP TouchPad against the original iPad. Comparing hardware specs, the Motorola and HP came out ahead, but that was then, and this is now.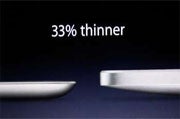 Take a look at the comparison table from that article. Now, go through and change the data to reflect the iPad 2. Carrier becomes "AT&T and Verizon"; OS is iOS 4.3; thickness drops to about .33 inches, weight comes down to 1.3 pounds; processor is dual-core; it now has front and rear cameras, and a stereo speaker, and includes a gyroscope.
Granted, after you adjust the data for the iPad 2 there are still some areas where rival tablets appear to have it beat. The TouchPad has a dual-core processor that runs at a faster 1.2GHz. Both the Xoom and the TouchPad have four times the RAM of the iPad, and there hasn't been any confirmation on how much memory the iPad 2 has. The Xoom has a larger display and higher resolution. But, the iPad still starts at $500, compared to the Xoom's $800 and the as-yet undisclosed price of the TouchPad–which won't even be available until months from now.
Apple has over 65,000 apps that are developed for the iPad. Google just finally launched a tablet-optimized version of the Android OS, and developers are just starting to develop Honeycomb-specific apps developed for a tablet. Other tablet platforms aren't even out of the starting gate. The size of the app library, and the market share of the platform become a self-fulfilling circle. Buyers want to purchase the tablet that has the expansive app library, and developers want to develop apps for the platform that offers the most potential sales. Rinse and repeat.
The bottom line is that Apple already has a one-year head start and a dominant share of the tablet market. The iPad 2 improves on the original iPad and gives the Apple tablet specs and performance equal to or greater than rival tablets–leaving Motorola, Samsung, RIM, HP and others to duke it out for a share of a distant (very distant) second place.
Now, I just need to sell this original iPad on Craigslist so I can put that money toward my new iPad 2.