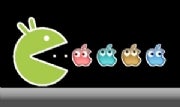 Google's Android is the most popular smartphone operating system in the United States — but just barely, according to new numbers from the Nielsen Company. The metrics firm found that Android has captured 29 percent of the hearts and minds of U.S. smartphone users, while Research In Motion's Blackberry and Apple's iPhone trail at 27 percent each. The findings are a marked difference from a Nielsen report released in December that found the iPhone had about a 4 percent lead on its Google rival. The December study also said Android and iPhone devices were equally desirable among U.S. users.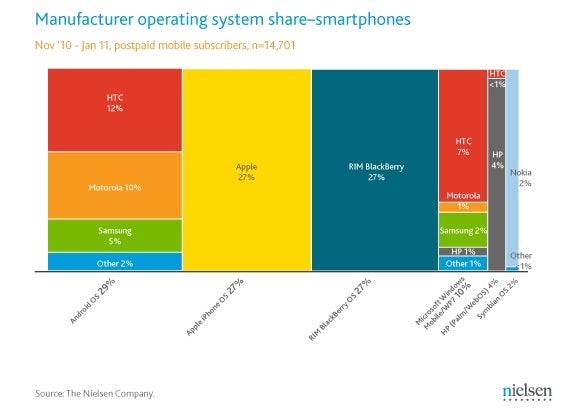 In a move that is sure to appease the iPhone's growing fan base, Nielsen also says that if you count popularity by manufacturer, RIM and Apple are the biggest. In third place is HTC's Android line-up at 12 percent of the U.S. market, followed by Motorola's Android army at 10 percent.
But this measuring stick is a little unfair since both RIM and Apple produce their own hardware, while Google's Android is a software platform available on devices from numerous manufacturers.
Age Doesn't Matter
It's also interesting to note this chart showing Nielsen's breakdown of smartphone users by age. When it comes to smartphone popularity there appears to be little difference between brands among the same age groups.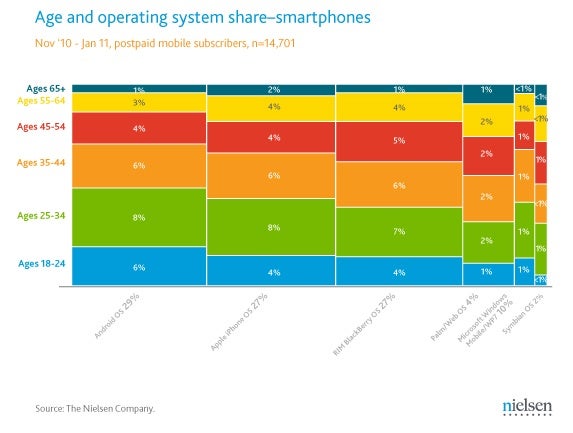 Android and Apple, for example, each have 8 percent of smartphone users aged 25 to 34, while RIM has 7 percent. One percentage point is a relatively small difference, and you find similar results in almost every age category. The only exception is smartphone users in the 18 to 24 age range, where Android has a lead of 2 percentage points over Apple and RIM; but again, that difference is somewhat negligible.
Nielsen's report is relatively good news for Apple and Android, who appear to be dominating the U.S. smartphone market (RIM has been losing market share for several quarters). But the findings also indicate that competing smartphone platforms have a long road ahead to overcome the three market leaders.
Microsoft mobile devices are popular with just 10 percent of U.S. users, but that includes the aging Windows Mobile platform as well as the company's shiny new Windows Phone 7 OS. WebOS is even further behind than Microsoft at 4 percent of U.S. users; however, that could change with a renewed push from WebOS' new owner, HP.
Nokia's doomed Symbian platform, meanwhile, claims a pitiful 2 percent fan base in the U.S.
Nielsen's study includes data collected from 14,701 postpaid (read: people with cell phone contracts) U.S. smartphone owners between November and January.
Connect with Ian Paul (@ianpaul) and Today@PCWorld on Twitter for the latest tech news and analysis.