Need to watch your business 24/7? It's impossible for any one person to do the job, but a digital security system can show you what's happening in your office or store no matter where you are.
Although not every business requires surveillance cameras, the investment can pay off big time for anyone seeking additional security or monitoring. Cameras may deter crime, and if a stranger graffitis an office window or an employee steals cash from the register, for instance, a recording tells the tale and allows you to take action.
Mobile Access
Surveillance systems are making strides in image quality and flexibility for the watchers on the back end. Internet protocol (IP) surveillance combines cameras with a digital video recorder that can feed information to the Web. Some let you peek live at a scene from your smartphone, tablet, or PC. You can replay videos, print images, and even e-mail them to the police to help pursue or prosecute a suspect.
Your company doesn't need to be a common target, such as a jewelry store or nightclub, to benefit. Smarter surveillance gear is dropping in price, offering analytics tools that examine patterns at your location. They might alert you the moment a fire exit is blocked, for example, or display data from a busy month to show exactly when customers flocked to your store.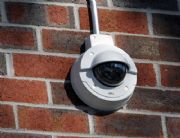 Installations of digital surveillance equipment took a dip with the recession, but are picking back up again. Sales of cameras, recorders, and encoders are expected to reach $15 billion in 2014, according to research firm In-Stat. The firm expects to see the equipment appear more in healthcare facilities, on school campuses, and in stores trying to keep lines moving at the cash register.
What to Buy
If you want just a basic video setup to keep an eye on your office or shop, consumer gear from big brands such as D-Link, Linksys, Logitech, and Netgear is likely to do the trick for $50 to several hundred dollars. First, though, look for ease of use. A basic Webcam may be all you need. If you need to integrate the gear with business systems for access control, alarm monitoring, or point-of-sale systems, you'd best call a professional and prepare to spend thousands.
Although newer surveillance systems use ethernet instead of older coaxial cables, some products offer wireless communications–but that option isn't ideal if your site has a poor signal. Verizon, for one, touts a SerComm IP camera that sends real-time footage via its LTE 4G network.
If you're looking for a more complex system, the IP Camera Finder on news portal IPVideoMarket.info provides a search for dozens of specifications, including resolution, autofocus, and built-in analytics. You'll also find reviews at NetworkCameraReviews.com.
Not all consumer-grade cameras are strong enough to withstand wear and tear where you install them. In contrast, internal heaters and fans inside models from specialized vendors such as Axis prevent freezing and foggy lenses. Heavy-duty "captive" screws and sturdy metal housing prevent vandals, and software will detect (and send an alert) if the camera is jarred or covered up. Night-and-day cameras, including infrared ones, can keep constant watch.
Next page: Watching remotely with software for smartphones and PCs
Case Study: Digital Security System Offers Mobile Monitoring
Property Advisory Group, a real estate developer and management company, manages 2500 units across 25 apartment complexes in five states.
At its 99-unit Mount Vernon apartment complex in Woonsocket, Rhode Island, security staff relied on a strategically placed analog surveillance system. Twenty-five closed-circuit TV cameras around key areas of the building fed recordings to two digital video recorders in a main office.
The problem
If a security problem occurred, retrieving a recording of an incident was laborious at best. Staff often had to call the company that installed the CCTV system to come and help locate the data, which could take several days.
Property Advisory Group needed to close the gap between when an incident was recorded and when staffers could view the footage. The company also hoped to improve the grainy images to identify suspects more easily.
The solution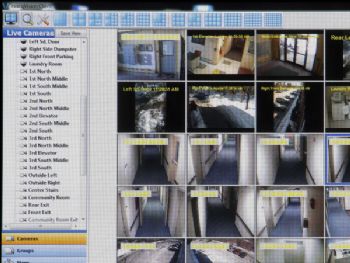 PC Troubleshooters installed ten Axis P3343-series digital network cameras around and inside the building. The weatherproof, shatterproof cameras offer 720p HDTV, 1-megapixel images, superior to those of analog cameras. Motion triggers the cameras to run day or night, and an alarm alerts the administrator if it detects tampering. Users can zoom in to view clear snapshots that show details of locations, such as license plates and facial features.
Each Axis camera is like a little computer with a lens, carrying built-in intelligence that includes motion and audio detection plus awareness of active tampering. Installing each camera with supporting software requires expertise in both networks and surveillance cameras.
Propery Advisory Group decommissioned its analog recorders in favor of a digital network video recorder, a server running Exacq software. Exacq's hybrid video server ties in both the new and old cameras, giving the analog equipment new life. One of the key selling points is that it enables users to view what the cameras see from anywhere at any time, thanks to apps for iPhone, iPad, and Android devices, as well as PC and Mac software clients.
When logged in to the Exacq camera server, staff can watch live feeds from each camera. Every view in a time-and-date-stamped window can open to full screen size. Right-clicking any view allows immediate playback of any motion recorded within the last 15 minutes.
Users can save recordings to their local PC, tablet, or smartphone, and can create a snapshot within a minute of viewing an incident. Not only can they e-mail an image of a suspected crime instantly to local law enforcement, but they can also print a hard copy. Since digital footage is admissible in court, the likelihood rises for a successful prosecution.
The Outcome
The security overhaul cost close to $30,000. Adding cables and cameras and configuring the hybrid video server took about two days.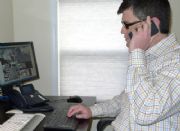 Property Advisory Group continued to benefit from its initial investment in the analog system while reaping the rewards of advanced IP technology and surveillance.
The new system helps to deter potential criminals and protect the property. Most important, under the watchful eyes of security staff, it brings enhanced safety to residents, who are likely to get a faster police response if a criminal strikes.
–Case study submitted by PC Troubleshooters
Founded in 1992 on the University of Rhode Island campus by Eric M. Shorr, PC Troubleshooters provides small and midsize businesses with IT support and maintenance for networks, servers, workstations, applications, and network video surveillance systems. You can find the company at PCTrouble.com.
If you're an IT solutions provider serving the small to midsize business market, and you'd like to learn how you can contribute to PCWorld Tech Audit, send mail to techaudit@pcworld.com. We're always looking for more talented pros.
Tech Audit is written and produced in cooperation with IT professionals in the field. All recommendations and opinions expressed represent the independent judgment of the authors and do not necessarily reflect those of PCWorld or its editorial staff.