Last week, Apple's iPad 2 appeared to send Samsung into a panic, with one executive saying the company would have to rethink pricing of its upcoming Galaxy Tab 10.1 tablet and "improve the parts that are inadequate."
Now, Samsung is backpedaling. In a follow-up report from Yonhap News Agency, the same news wire that wrote the original story, a Samsung spokesman says the company hasn't changed its release plans for the Galaxy Tab 10.1, a 10-inch tablet that will run the Android Honeycomb operating system.
Lee Don-Joo, the executive vice president of Samsung's mobile division who was quoted in the first story, is quoted again with a more confident outlook. "We will continue to make every effort to provide the most powerful, well-designed and productive mobile device to customers," Lee said.
Samsung's insistence that the Galaxy Tab 10.1 is on schedule doesn't rule out the chance that the tablet will be cheaper than Samsung originally intended. After all, the company hasn't announced a price or release date for the Galaxy Tab 10.1.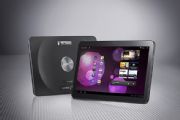 Still, a redesign of the device itself seems unlikely if the tablet is launching before the summer, as local media in Korea have reported. I doubt there's enough time to go back to the drawing board now.
Apple's iPad starts at $499 for a Wi-Fi model with 16 GB of storage. The most expensive model costs $829 and includes 3G connectivity and 64 GB of storage.
In the earlier report, Lee said the Galaxy Tab 10.1 "was to be priced higher than the 7-inch (model)," referring to Samsung's original Galaxy Tab, which sold for $600 in the United States at launch, "but we will have to think that over."
That, I hope, is still the case even if Samsung is no longer saying so to the press.
Follow Jared on Facebook and Twitter for even more tech news and commentary.