Adobe is fighting Apple's blockade of Flash technology on iOS devices with an experimental software called Wallaby that can convert Flash files into HTML5. Wallaby, a cross-platform AIR app demoed in October, is now available to download on Adobe's Labs pages, as a technology preview for PC and Mac developers.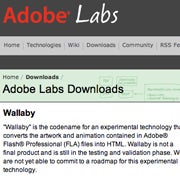 Wallaby enables Flash developers to recycle Flash content (such as advertisements) for use on Apple devices like iPhones and iPads, which are known for not supporting Flash technology. It's been more than a year since Apple CEO Steve Jobs shared his "Thoughts on Flash," claiming Flash is an obsolete technology and a resource and battery hog for mobile devices.
Wallaby allows you to drag and drop a Flash .fla file in. The software then outputs HTML-friendly files that can be edited in Dreamweaver. The app can't handle more than simple animations and transitions at the moment. Wallby works best with output in Apple's Safari and Google's Chrome browsers, both based on Webkit. Adobe said it was testing other browsers as well.
The experimental software can support Flash Professional features such as vector art and images, classic text, keyframes, MovieClips and graphics, classic, motion, and shape tweens; rollover buttons, and instance names. Wallaby can't yet port ActionScript instructions or filters and blend modes, Adobe said. Same goes for video and audio, which have their own HTML 5 tags that can be called separately.
What Wallaby would be useful for initially is advertising. Designers could convert simple banner and animations and export an HTML 5 version of them, too. Your iPad or iPhone won't be Flash-free for long, one way or another.
Follow Daniel Ionescu and Today @ PCWorld on Twitter