Microsoft's US smartphone subscriber base dipped by 1.7 percent between October and January, despite a big push for its recent Windows Phone 7 launch. During the first three months that Windows Phone 7 devices were available, Microsoft claimed just 8 percent of US smartphone subscribers, down from 9.7 percent between July and October, according to recent numbers from comScore.
Microsoft's slide doesn't bode well for the company's struggling new platform, but encouraging signs are on the horizon. The first is Microsoft's new deal to make Windows Phone 7 the primary smartphone platform for Nokia devices — an agreement that will reportedly cost Microsoft a $1 billion payout to Nokia, according to Bloomberg. The second is the recent success of Android, which comScore says is now the number one smartphone platform in the United States.
Android zooms ahead
Android owns about 31.2 percent of the US mobile subscriber market, according to comScore. It's not just comScore making this argument either, as the Nielsen Company recently reached a similar conclusion.
That is an amazing achievement considering Android claimed just 7.1 percent of the US market just over 12 months ago, according to comScore numbers. Android's success can be traced to a number of factors, but the primary reason is that the platform was made available on such a wide number of devices from manufacturers such as Motorola, Samsung, HTC, LG and Sony Ericsson. Most of Android's competitors, meanwhile, including Research In Motion's Blackberry, Apple's iPhone and Palm's WebOS devices are restricted to one manufacturer.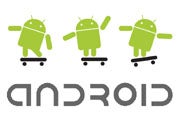 Microsoft, however, takes the same approach as Android, and at 8 percent of the US market has about the same number of subscribers as Android did a year ago. Based on Android's rising popularity, it's possible that Microsoft could become a viable smartphone contender over the next 12 months. But to do that Microsoft will need more than the one-platform multi-device approach it used to dominate the PC industry with Windows.
Searching for Droids
Android's rise can be credited, at least in part, to the popularity of Motorola's Droid. About 22 percent of mobile users knew of Android prior to the Droid marketing campaign that kicked off in 2009. About four months later, however, 37 percent of mobile users were Android aware, a substantial jump in a short amount of time. Then, by October 2010, after an explosion of Android devices and several high-profile handsets, including Droid, Google's mobile OS claimed 23.5 percent of the US market and was already rivaling Apple's iPhone.
Windows Phone 7 needs its own Droid, and it appears the company in the best position to do that for Microsoft is Nokia. Just like a struggling Motorola did with Android, Nokia is looking to revive its smartphone business with a fresh new mobile OS. Very few manufacturers have embraced Windows Phone 7 the way Android has been embraced, which means Nokia can differentiate itself from the competition with the Windows Phone 7 platform.
Both companies bring a host of advantages to the new partnership. Microsoft brings a solid mobile OS that is just as simple and intuitive to use as iOS, while Nokia brings its wide experience developing hardware and features such as its Navteq GPS mapping service.
The big question is whether they can pull together the best of both companies and avoid the pitfalls such as Microsoft's recent upgrade snafu. Microsoft will also have to make sure that it can iterate at least as fast as Apple and produce a new version of its mobile OS every year.
Windows Phone 7 can definitely succeed if it finds the right mix of marketing, popular handsets and an annual refresh cycle for OS. The question is whether a traditionally slow-moving company like Microsoft can keep pace with competitors such as Apple and Google.
Connect with Ian Paul ( @ianpaul ) and Today@PCWorld on Twitter for the latest tech news and analysis.