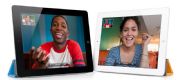 This article on iPad 2 buying advice is not for you. You're welcome to read it, of course, but it's really intended for my friends and relatives who've been asking me since last week whether the iPad 2 is worth getting, or whether they should wait for something better.
Even though it's fun to declare one tablet superior to another, the question of which tablet to buy really doesn't have a one-size-fits-all answer. So instead, I'll walk through a handful of things to consider before Apple's iPad 2 goes on sale March 11. And if you like what you read, feel free to refer your own nagging friends and relatives to this document as well.
How important are apps to you?
With a year under its belt as the dominant tablet player, Apple's iPad offers 65,000 apps designed specifically for the big screen, compared to roughly 100 for Motorola's Xoom. That's a huge draw for the iPad 2, but if you plan to spend most of your time browsing the Web or reading e-books, a huge app catalog isn't that important. Consider the Android Honeycomb features that Apple's iPad lacks — particularly widgets and direct file transfers — before making a purchase.
Do you plan to go mobile?
Most tablets, including the iPad 2, give you the option to purchase 3G capabilities and a data plan for a wireless carrier. But Motorola's Xoom is one of several tablets that will have 4G capabilities later this year. (It currently ships with 3G and will be upgradeable for free at a later date.) If you're a road warrior who plans to commit to a monthly data charge, 4G's faster speeds could come in handy.
Are you an anti-Flash zealot?
Apple and its tablet rivals have a long and healthy feature war ahead of them, but one feature the iPad will almost certainly never adopt is Adobe Flash. Steve Jobs despises it. Meanwhile, other tablet makers such as Research in Motion hope Flash will be a main attraction in their own products. It comes down to this: Is Flash something you'd like to have as an option, or would you rather help accelerate its demise?
Are you creative, or productive?
On March 11, Apple will sell a version of iMovie for the iPad 2 and GarageBand for all iPad models. I haven't tried them, but I can say that the iPad is already an excellent muse for the arts, with heaps of apps for music, drawing and photo editing. GarageBand and iMovie will round out the iPad's catalog of creativity apps. For productivity, however, the iPad suffers from its lack of a USB jack, microSD slot and file manager. Those features, some or all of which are available on the Xoom or other upcoming tablets, aren't as fun, but they're better than using iTunes to transfer data.
Can you wait until the summer?
Although Apple focused on hardware when introducing the iPad 2, the main things to consider with any tablet are the apps and the overall user experience. With that in mind, the iPad needs a software overhaul. We should get a peak at iOS5 this summer, and by that time the tablet field will be crowded with competitors such as RIM's Blackberry PlayBook, HP's TouchPad and Samsung's Galaxy Tab 10.1, so you'll be able to try a whole bunch of iPad 2 alternatives instead of just guessing what they'll be like. That's worth considering if you're uncertain about the iPad now.
Follow Jared on Facebook and Twitter for even more tech news and commentary.