Some people call me cheap, even stingy. I'd rather be known as thrifty. That's why I won't buy the original (OEM) printer cartridges for my HP Photosmart e-All-In-One inkjet MFP. As a serial refiller, my quest is to find good third-party options–including remanufacturers, refill services, and do-it-yourself refill kits–and tell you whether the savings are worth the trouble.
I've tried a variety of alternatives. A do-it-yourself refill kit from InkTec offered the best cost per page and print quality, but it also caused the most mess. Office Depot's remanufactured cartridges provided meager savings and middling output quality. The best option I've found so far is Costco's onsite refilling service, which saved me more than half the cost over the OEM ink, with little effort and acceptable print results.
Can Cartridge World Beat HP's Own Ink?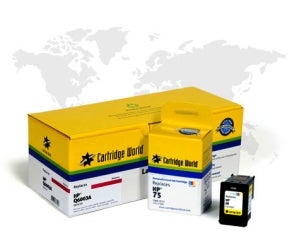 This time I tried remanufactured cartridges from Cartridge World. The company sells toner and ink cartridges for assorted printers, including numerous HP, Canon, Dell, and Lexmark models. You've probably seen one of Cartridge World's 1700 retail stores, 650 of which are in the United States and Canada. You can also buy direct from the company's Website.
Because I used just one set of Cartridge World cartridges, and with only one printer, my experience is anecdotal and does not test the durability or archivability of third-party inks, nor how the printer will fare after repeated use with them. Nevertheless, my hands-on trials will give you a taste of what to expect if you try a third-party alternative with your own printer.
With both the HP and Cartridge World inks, I printed out a set of pages–ranging in content from plain text to a full-size color photo–over and over again until the ink started to run out (blank streaks appeared on the page). I counted the number of pages that printed before streaks appeared, to get a sample page yield. (In all my tests, such page yields will likely differ from those that HP or the third-party company quotes, just as your own mileage will vary depending on what you print.) I also compared the print quality of the pages using Cartridge World ink versus those printed with the HP cartridges.
Cartridge World Pricing Varies From Store to Web
Products: * Cartridge World remanufactured HP 60 black cartridge: $12.99 at a store, $15.32 online * Cartridge World remanufactured HP 60 tricolor cartridge: $15.99 at a store, $18.55 online Vendor URL: CartridgeWorld.com Worth trying? Yes Hassle factor: Low Print quality compared with OEM ink: Satisfactory, but not as good as OEM Yield (mixed set of samples): 156 pages Cost per page: 19 cents (OEM: 27 cents)
I drove to my nearest Cartridge World store to buy two remanufactured HP 60 ink cartridges for my Photosmart e-All-in-One printer. I paid $12.99 for the black ink cartridge (model number CWH-60K) and $15.99 for the tricolor unit (CWH-60Tri). The sales clerk tried to upsell me to the high-capacity cartridges, which, she said, "cost twice as much but print three times as many pages" as the standard tanks. I declined. Total cost excluding sales tax: $28.98.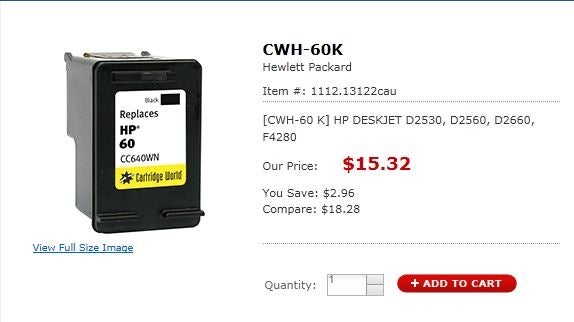 When I got home, I compared Cartridge World's brick-and-mortar prices with those on its Website. Weird: The online prices were significantly higher than what I paid. The black cartridge was $15.32, and the tricolor was $18.55. Add $1.99 for shipping, and that comes to $35.86.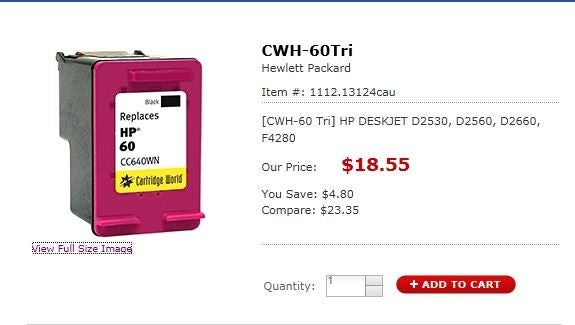 Why the discrepancy? According to Sharon Kinkade, director of marketing for Cartridge World North America, store franchisees can set their own pricing. So you may pay more or less at a Cartridge World in your area than I did at mine in Los Angeles, and your store's price may be lower–or higher–than the price you'll find on the Web. If you ever needed a compelling reason to shop around, here it is.
As with remanufactured cartridges from other vendors, the Cartridge World tanks are visually indistinguishable from the OEM ones, aside from the company's stickers on the top and side.
Installation was simple: I popped out the empty HP cartridge and inserted the Cartridge World tank. Printing was uneventful, save for HP's error messages, which appeared soon after I started printing. Alarmist Exhibit A: 'Counterfeit or Used Cartridge Detected'.
Cartridge World Output Quality Falls Short
As with most third-party inks I've tested, Cartridge World's output quality was good enough for everyday printing, but not on a par with the quality I saw from OEM ink. HP's ink, for instance, produced grayscale photos with crisper and more realistic textures. And although Cartridge World's color images were attractive, HP's were noticeably sharper and more vibrant. In my water-drop tests, Cartridge World's inks smeared no more or less than HP's.
Overall, I'd rate Cartridge World's inks, along with Office Depot's, in the middle of the pack: a little better than Costco's, but not as good as HP's or InkTec's. My analysis is subjective, of course, and Cartridge World's inks may suit your printing needs just fine.
Cartridge World Cost Savings Are Minimal
I printed 156 pages with Cartridge World's remanufactured black and tricolor cartridges before streaks appeared in images and text. That comes out to 19 cents per page, assuming you get the price I paid at my local store. If you purchase at the higher online prices, the cost estimate rises to 23 cents per page. By comparison, you'll pay 27 cents per page if you buy the HP 60 black and tricolor cartridges separately.
Cartridge World ink saved me a few bucks over HP's own inks. InkTec's do-it-yourself refill remains the cheapest I've tried by far. For less-adventurous penny pinchers, Costco's refill service is a great deal at 11 cents per page–assuming that you find its mediocre output quality acceptable for your needs.