The controversial Quickbar feature Twitter introduced in its latest iOS client is now less annoying. Twitter filed an update for the app with Apple, which now modifies the behavior of the Quickbar from floating over tweets to being pinned down at the top.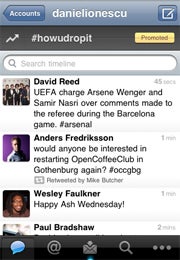 The Quickbar, a new feature in a revamped Twitter iOS app released last week, has been an annoyance for many users and the subject or ridicule for tech pundits. The bar in question is meant to bring out advertisements and trending topics, hovering on top of your Twitter feed. But the behavior of the Quickbar was seen as obtrusive and inappropriate at times.
To address some of the complains and ridicule, Twitter has backtracked on some of the aspects of the Quickbar, but did not eliminate it completely (after all, it helps bring in money). The updated version of the Twitter iOS app, now available in the App Store, still features the bar, but instead of it hovering above the timeline (thus covering tweets), it is now pinned at the top of the screen.
The updated Twitter app with the altered Quickbar is less obtrusive than the previous version. The Quickbar is not only pinned at the top of the screen, but stays there while you scroll down through the timeline. A refresh of the timeline will also prompt a different hashtag trend to appear, be it sponsored or not. Fortunately, the bar does not appear when you check your @ replies or direct messages.
Some users however, seem not to be keen on the Quickbar at all, even after the update. Mere hours after the new app made it into the App Store, two users left reviews saying: "Hate it! Distracting! Make it go away!! Just installed update. Bar still there. Unhappy!", while another one said "The quick bar is still visible at the top of the timeline. This needs to be configurable in settings."
Did you find the original Twitter Quickbar annoying and obtrusive? Is the new solution any better? Sound off in the comments.
Follow Daniel Ionescu and Today @ PCWorld on Twitter