At a Glance
Expert's Rating
Pros
Very good game performance for its size
Great keyboard with excellent tactile feedback
Cons
Quite hefty for its class
The system gets pretty loud under a full gaming load
Our Verdict
The P151HM brings a robust GPU and solid gaming performance to the 15-inch category of laptops, but at the cost of added weight and bulk.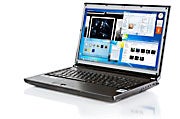 My initial impression of the AVADirect Clevo P151HM all-purpose laptop, with its unassuming, matte-black exterior and hefty size, wasn't entirely positive: I'm no fan of bulky, nearly 9-pound (with power brick) 15-inch laptops–I've seen lighter 17-inch units. But as I used the P151HM more, my attitude definitely softened. Some users certainly will love this laptop, despite its bulk. Although I wouldn't want to lug it around, that extra weight has been put to good use.
Most of that additional heft goes toward performance. On our WorldBench 6 suite, the P151HM achieved a solid score of 132, but its gaming performance was truly impressive. The P151HM carries an Nvidia GTX 460M with 1.5GB of video memory and full support for DirectX 11. On 3DMark 2011 its score was 1800–one of the better marks I've seen from a laptop in this class. On the Far Cry 2 benchmark the system delivered a rate of 56.8 frames per second (without antialiasing), which is pretty darned good. Even better, it ran the highly demanding Metro 2033 at 30 fps, albeit at medium settings. Finally, it ran the F1 2010 Formula One racing game, with the high preset enabled, at 67 fps–not too shabby.
Given the solid discrete GPU, as well as the machine's Intel Core i7 2630QM quad-core CPU and Blu-ray burner, the P151HM could make for a pretty decent media-authoring workstation on the go. The asking price of $1416 (as of March 9, 2011) is a bit on the high side, but you get what you pay for.
Sometimes, performance can take a back seat if other features are lacking; for instance, one thing that can drag down a laptop's utility is a poor display. Fortunately, the P151HM's matte, full-1080p LCD panel delivered seemingly accurate color. Blu-ray movies played on the included Blu-ray drive looked sharp, with good color fidelity. Black levels were adequate, though still mostly very dark gray. The one area where the display fell short was in off-axis viewing angles, but that's a problem with most laptop LCDs.
Audio quality also proved better than anticipated. The P151HM's speakers don't get particularly loud, but they are clean and neutral-sounding. That may be due in part to the additional THX TruStudio Pro tuning from Creative Labs that's included with the system. I tend to avoid stage-widening effects and fake surround, but the stereo imaging and overall audio fidelity on this laptop sounded surprisingly good to my ears. Music was generally balanced, though lacking in deep bass. Movies sounded crisp, with vocals–often heavy on the center channel–coming through very clearly. You may still prefer to use headphones if you want more punch in your gaming or movie audio, but the built-in speakers, coupled with the THX software, definitely impress.
The keyboard is another area in which laptops often disappoint. The Clevo P151HM's keyboard offers excellent tactile feedback. One cute touch is the set of red arrows silkscreened onto the W-A-S-D key cluster, which many first- and third-person action games use for movement. Overall, the keyboard is quite good, but it lacks dedicated Page Down, Page Up, Home, and End keys; you need to double-press the Fn key or deactivate the nearly full numeric keypad to use those keys. Transport controls for media players also require Fn-key use, as they're layered on top of the function keys.
Battery life is adequate, at a little short of 3 hours–good enough to watch most movies all the way through, but not quite enough to last through a transcontinental flight. The laptop does get fairly loud and warm under a full gaming load, so be wary of using this PC on your lap if you're wearing shorts while gaming.
The Clevo P151HM provides five USB ports; two are USB 3.0 ports and one is a combo USB/eSATA port. You'll also find an actual DVI dual-link connector, plus an HDMI output. Networking includes 802.11n and gigabit ethernet, but no Bluetooth support. Storage is robust, consisting of the aforementioned Blu-ray burner and Seagate's spiffy 7200-rpm Momentus 9500 hybrid drive.
Weight is the main area in which the AVADirect Clevo P151HM disappoints. Sure, it packs a lot of performance into its plastic chassis, but the system weighs shy of 7 pounds without the power brick. Add the 120W power supply, and you're approaching 9 pounds. That's a lot to lug around, even though it pays off in system performance.