I've spent most of the past 15 years writing for my supper, and I've learned at least one thing in that time: When it's time to write, concentration is critical. But in our distractastic online universe, where the chatter of social media never seems to subside, concentration is the one thing that doesn't leap out at us from every window on our desktops. So when I need to cut block out the distractions and get raw ideas onto the screen, I turn to a text editor that's right for the job.
Distraction-Free writing tools have emerged as a powerful antidote to the endless streams of digital chaos that occupy the corners of our screens. By blocking out all other windows and giving you nothing to focus on but the blank space in front of you and the voices in your head, these simple editing apps help create a work environment that's promotes mental clarity.
To call a distraction-free writing app a 'word processor,' seems almost absurd. Most offer little in the way of text formatting features, and that's by design. The idea here is to give you the space you need to capture your thoughts in the simplest possible form. Just get those thoughts out of your head and onto the screen. Once you've done that, you can export your work to Word or whatever word processor you like and make the fonts as fancy as you like, add graphics, and all that good stuff.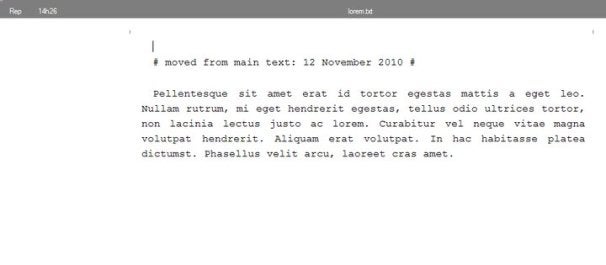 On Windows, my favorite such app is WriteMonkey, a freebie that overtakes your screen and gives you only the most basic editing features, but still packs plenty of customization tools within its right-click context menu. You can personalize the color scheme of your text and background quickly to whatever combination you find comforting and conducive to your own creativity.
While I don't generally worry at all about formatting when I'm writing a first draft of anything, WriteMonkey does support standard inline markups, so *yourtexthere* will make your text bold, _yourtexthere_ will make your text italic, and so on.
Another good option for Windows is Dark Room, which–as its developer readily acknowledges–is a simple replica of a popular Mac app called WriteRoom. Dark Room is considerably simpler than WriteMonkey in that it offers fewer customization options, but it's every bit as good for dumping your thoughts onto the screen. And for users who don't care about added options and just want to do some writing, the simplicity will be a boon.
My all-out favorite distraction-free writer is OmmWriter, which is currently only available for Mac but is expected to hit Windows on March 15. OmmWriter adds some really interesting features that enhance your focus. Simple backgrounds, like a white screen with bare, leafless trees that evokes a winter landscape, give your eyes something other than the words to satisfy your peripheral vision without adding distraction. It also includes cool soundscapes of chimes and other white noise that give it an immersive Zen feel. Spending an hour or two in OmmWriter is practically meditative.
WriteMonkey does include support for some audio plugins, but in my experience they don't yet work very well. I can only hope the developer improves that functionality soon.
Whichever tool you choose, it's well worth giving a distraction-free editor a try the next time you really need to concentrate on some writing. These super-simple tools have been nothing short of transformative in my own writing process.