It's no secret that we at GeekTech are fans of both Lego and robots. So when the two can come together in the form of a Lego Mindstorm NXT kit, color us interested.
Lego's robot creating kit (and associated software) has come far in capturing people's imaginations since 1998, when the first kit was released. It allowed you to create specific robots easily out of a box. Fast-forward to the present: Lego is on Mindstorm NXT 2.0 and there are now Android apps, cool controllers, and dedicated Websites for hacks using the Mindstorm NXT kits. So dust off that Mindstorm kit and check out some of our favorite robots that you can make:
Bartender Robot
Ever felt a little thirsty, but were tied up working on something else? No worries; this soda-fetching Mindstorm robot is here to help. Originally made as a class project, the bartender robot is controlled remotely by a computer, powered by Bluetooth. The computer sends the robot a list of set instructions, like "look for soda". The robot will follow the instructions to the "soda station" and then return it to a pre-set location (like a sofa). Check out the little bot in the video:
Gymnastic Robot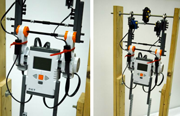 The Gymnastic robot is a pretty simple Mindstorm bot. It's attached to a bar, which it flips over, much like (surprise!) a gymnast. However, it also acts in a very human way. Rather than instantly being able to go straight over the bar, it rocks back and forth to gain traction to push it. It also has similar joints to a human (minus the legs), making for natural looking flips. Watch the video, and then download the manual to try for yourself.
Painter Robot
That's right, give the Portrayer Robot any image to draw and it will copy it identically. Other than the Mindstorm kit, the robot is made up of a felt tip pen (you can choose the color) and some clever computer software. The software was developed by MATLAB, and the robot is programmed using NXC. Simply upload the image you want the robot to draw to the software, vectorize it and the robot will get sketching. Look at it draw the Mona Lisa below:
Roboflush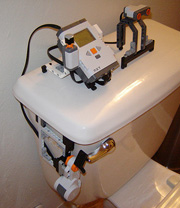 So, you're feeling lazy enough to get the Bartender bot above to fetch your drinks. But after having so many, you're feeling the need to go to the bathroom. Still feeling lazy? There's a Mindstorm robot to even flush the toilet for you.
Will Gorman built Roboflush, the robot that sits on the side of your toilet and automatically flushes — it has an ultrasonic sensor sitting on top of the lid. Read on to get the instructions to make this and see it in action (it's not a graphic video, I promise!).
Soccer Robot
One way of really showing off to your friends would be to challenge them to a game of soccer, but with robots. Other than the Mindstorm kit, these autonomous football robots come equipt with a color camera, compass, radar and light detector. Combine all these gadgets together and these robots are quite nifty at tracking where the ball is on the pitch.
Rubix Cube Solver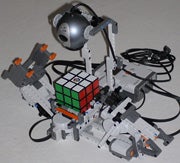 There's no denying that robots can beat us at most things (like, say Jeopardy, or basketball), so it's no surprise that this robot by Danny Benedettelli can solve a Rubix Cube in under a minute. The puzzle solver grabs, rotates, and scans a Rubix Cube as it solves the puzzle. It features three motors, two touch sensors, and two NXT controller bricks. The software, which communicates with the robot via Bluetooth, can be found on Danny's page, as well as more photos, a video and how this bot has evolved.
Are there are NXT robots you think are missing from the list? Tell us in the comments!
More Lego nerdery from GeekTech…
Get your GeekTech on: Twitter – Facebook – RSS | Tip us off