At a Glance
Expert's Rating
Pros
HSPA+ is fast
Gorgeous Super AMOLED display
Attractive design
Cons
No camera flash
4G connectivity is hit-or-miss
Our Verdict
The Samsung Galaxy S 4G is a solid, powerful phone, but it doesn't have the specs to compete with the next generation of smartphones.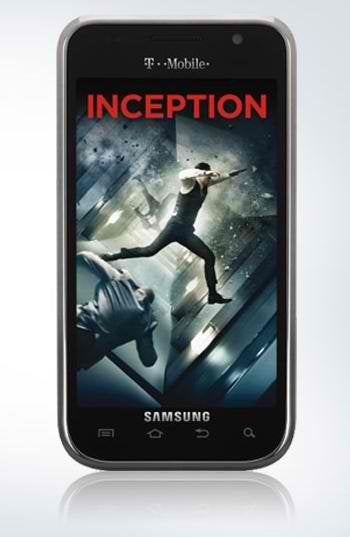 As a part of its aggressive 4G plans, T-Mobile launched a 4G version of the popular Samsung Galaxy S phones. But unfortunately, the Galaxy S 4G ($200 with a two-year contract from T-Mobile; price as of 3/1/11) does not have the specs of the hot next-gen Galaxy S II phones we saw at Mobile World Congress. That said, there are some slight improvements between the Galaxy S 4G and the Samsung Vibrant, also on T-Mobile.
Design
The Galaxy S 4G retains the lightweight, yet plasticky feel in hand that a few of the other Galaxy phones have had. It looks a bit different from the other all-black Galaxy phones as it has a silver battery cover with a metallic-like sheen. In terms of buttons, you get the standard Menu, Home, Back and Search touch keys. The hardware power button on the right spine is slightly more pronounced than the one on the Vibrant. Measuring 4.82-by-2.54-by-0.39 inches and weighing 4.16 ounces it is pretty much the exact same size as the Vibrant.
Like the other Galaxy S phones out right now, the 4G has a 4-inch Super AMOLED display. Super AMOLED technology, which Samsung introduced at Mobile World Congress last year on the Samsung Wave, puts touch sensors on the display itself, as opposed to creating a separate layer (which Samsung's old AMOLED displays had). This allows for a thinner phone as well as brighter colors and more crisp details. It is unfortunate, however, that the Galaxy S 4G does not sport the brand new Super AMOLED Plus display technology, which debuted on the Samsung Infuse 4G at this year's CES. Super AMOLED Plus technology, the next generation of Super AMOLED, produces richer colors and high visibility indoors and out. It has 50 percent more subpixels for better clarity and readability outdoors, according to Samsung.
Software
Like other Galaxy phones, the Galaxy runs Samsung's TouchWiz 3.0 user interface over Android. Fortunately, the Galaxy S 4G ships with Android 2.2. I would have preferred a Gingerbread (2.3) phone, though. If the Samsung Nexus S can have it, why can't the Galaxy S 4G?
Like HTC and its Sense offering, Samsung has its own social media aggregator. Social Hub combines streams from your Facebook, MySpace, and Twitter accounts into a single view. It is a useful feature if you need a simple way to keep track of your networks. One random feature is Mini Diary, which lets you create blog entries with photos, weather info, text messages, and more. When I first tried Mini Diary on the European Galaxy S, I couldn't figure out how to get my entries off the device. Samsung followed up with me after my original review, thankfully, and confirmed that you can indeed post entries (though only those with photos) to various social networks or send them to friends via text. After you create an entry, you press the Menu key in the bottom-left corner, and it gives you MMS and Publish options. If you choose Publish, you can send your item to Facebook or MySpace.
Overall, TouchWiz is a fun and attractive take on Android, but it isn't for everyone because it is so overdone that the result doesn't even look or feel like an Android phone. Also, we found that the skin sometimes interfered with the Galaxy S 4G's speediness.
Multimedia
The TouchWiz music player is touch-friendly and easy to navigate. It showcases album art nicely, too, with an iTunes Cover Flow-style user interface. Sound was clean over my own earbuds, and decent via the external speakers.
One of the most intriguing features of the Galaxy S phones is the Samsung Media Hub, which will accompany all of the Galaxy S models. Media Hub is Samsung's answer to iTunes, a store for purchasing music and video. It definitely isn't as rich in content as iTunes, but you'll be able to find most major movies and most popular music.
The Galaxy 4G is also loaded with the full length movie Inception (which looked great on the display and played smoothly), T-Mobile video chat, doubleTwist with AirSync, Slacker and Kindle for Android.
Camera
In my hands-on tests, the 5-megapixel camera performed prettywell both indoors and out-until I took it out at night. Oddly, like the very first Galaxy S phone we played with, the Samsung Galaxy S 4G has no flash. For a phone with so much whiz-bang, it is sad that a camera flash was left out of the final design.
My photos shot indoors looked a bit on the dark side, but overall pretty crisp and clear. Photos taken outdoors on a sunny day looked a lot better: colors looked vivid, yet natural and details were sharp.
The HD camcorder can shoot up to 720p video, which looked
pretty good in the test videos I shot outdoors. The Galaxy S 4G also ships with a front-facing VGA camera for video chatting.
Performance
The Galaxy S 4G is powered by a 1 GHz Cortex A8 Hummingbird processor, like the other Galaxy phones. Oddly, it has less built-in memory than the Vibrant with 512 MB of RAM as opposed to 1024 MB. The Galaxy S 4G handled video smoothly as well as the multiple apps I threw at it. I did notice a bit of lag though during scrolling and flicking through menus. This might be an issue with TouchWiz bogging down Android; we've noticed this on other Samsung TouchWiz phones before.
According to T-Mobile, the Galaxy S 4G is capable of delivering theoretical peak download speeds of up to 21 Mbps over its HSPA+ "4G" network. Theoretical is the keyword here. In San Francisco, our speeds didn't even get close, but they were fast-depending on where we were. Using the FCC-approved Ookla app, we got an average of 2.6 Mbps for download speeds and 0.36 Mpbs for upload speeds in the South Park neighborhood of San Francisco. In another neighborhood, where the 4G signal is stronger, we got an average of 6.5 down and 1.7 up.
In a real world scenario, pages loaded pretty quickly-when I could get a signal. I had to test the full PCWorld.com HTML site multiple times because the Galaxy S 4G kept switching between EDGE and 4G. When I finally got it to fully load over 4G, I got about 18 seconds on average. ThrasherMagazine.com took an average of 17 seconds and a mobile version of CNN.com took 4 seconds.
Call quality over the network was really good. I didn't experience any dropped calls (a problem that the Vibrant seems to struggle with) and voices sounded crystal clear. Callers on the other end of line were also pleased with the audio quality and could hear me perfectly.
Conclusion
CES 2011 delivered a slew of 4G phones with dual-core processors from HTC, Motorola, LG and even Samsung itself. And at this year's Mobile World Congress, we saw the Samsung Galaxy S II, which sports a dual-core Hummingbird processor and Samsung's new Super AMOLED Plus screen technology. The Galaxy S 4G is a great phone, but other than its 4G-ness, it feels like last year's super phones. That isn't a bad thing at all, but for those of us who want the latest, greatest and fastest phones, the Galaxy S 4G might not cut it.