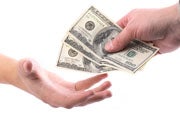 The laws of geekdom state that a newer, shinier, more desirable gadget is always around the corner. And you usually want it. But do you have the bucks?
Now, thanks to a slew of buyback programs and trade-in services, upgrading from last year's model doesn't have to sting. Sure, trading in used technology isn't as lucrative as selling it on eBay or Craigslist, but it's a lot less of a hassle.
PCWorld looked at eight such programs–Best Buy, BuyBackWorld, BuyMyTronics, eBay Instant Sale, Gazelle, NextWorth, RadioShack, and YouRenew–weighing the amount they pay and the benefits they provide to determine which ones offered the best deal in various categories of popular tech products. Let's examine the results for each category, so you'll have a better idea of where to go to get the most money for your old gadgets. (Click any chart image to enlarge it.)
How the buyback services compared: smartphones.

Smartphones: eBay Instant Sale
eBay's Instant Sale trade-in service offered the best prices, on average, for five popular smartphones, including an HTC Evo 4G ($200 in good condition) and a nearly three-year-old iPhone 3G 16GB ($141 in good condition). The site is free to use and offers free shipping and removal of personal data. If you're looking to trade in a phone–particularly an Android handset or iPhone–eBay is consistently the best deal.
On the downside: eBay Instant Sale pays only through PayPal. Once you've committed to a trade-in, you have only ten days to ship the phone. Some competing services, such as Gazelle, honor their trade-in quotes for a month.
Runner-up: BuyBackWorld had the best offer for a 32GB iPhone 4, at $434, beating eBay's quote of $406.
Dishonorable mention: Best Buy's buyback program requires an up-front payment–$60 for smartphones–when you purchase the phone through the retailer. Best Buy doesn't say what the money is for, but unlike other trade-in services, it guarantees that it will pay a certain percentage of the purchase price of your phone, starting at 50 percent and decreasing incrementally over the next two years. But because wireless carriers lock most customers in with two-year contracts, the only way to get money back from Best Buy is to bail out early and pay a huge early termination fee. For example, trading in a 16GB iPhone 4 eight months after the date of purchase would put $220 in your pocket (40 percent of the unsubsidized $700 price, minus $60 for the program), but you'd have to pay AT&T $245 to get out of your contract. It's a lose-lose.
How the buyback services compared: laptops.

Laptops: Gazelle
Instead of requiring you to pick from a dizzying list of model numbers, Gazelle's laptop trade-in service asks you to specify the brand name and then fill out the specs from a series of drop-down boxes. The process is more reliable than other services because you're choosing specs instead of looking for specific laptop models, and the process generally resulted in the best prices of the six competitors we surveyed that accept laptop trade-ins. Gazelle offers free shipping and pays by PayPal, check, Walmart Prepaid Visa, or Amazon gift card; it will donate your profit to charity if you specify that outcome.
On the downside: Gazelle's fill-out-the-specs method doesn't treat solid-state drives as a feature to be considered, but neither does its competitor NextWorth, which takes a similar approach.
Runner-up: eBay Instant Sale provides a reasonable alternative if you'd rather fill out a model number and pray that your computer is listed in the system database. Prices are decent.
Dishonorable mention: RadioShack had a paltry list of acceptable laptops, and its trade-in prices were below average. Don't bother.
How the buyback services compared: first-generation iPad.

Apple iPad: eBay Instant Sale
Trade-in prices for the first-generation iPad dropped significantly after Apple announced a thinner, lighter, and faster model; only eBay Instant Sale is still willing to pay more than half of the iPad's original price. As of Monday, the site was paying $258 for a 16GB Wi-Fi model in good condition, and $468 for a 64GB 3G model.
On the downside: The same two shortcomings associated with eBay Instant Sale's smartphone policy apply here: Payment is limited to Paypal, and the window for shipping your gear is brief.
Runner-up: Keep an eye on BuyBackWorld. Before Apple introduced the iPad 2, this site was offering the best trade-in values on first-generation iPads, so it may be worth considering in the weeks before Apple launches the inevitable iPad 3.
Dishonorable mention: Best Buy again. The program didn't exist when the iPad launched–but hypothetically, if you had purchased the $70 plan for a 64GB iPad 3G on launch day, you'd stand to make only 40 percent back now, or $261.61 after subtracting the up-front cost.
How the buyback services compared: Kindles and Galaxy Tab.

Kindles and Galaxy Tab: BuyBackWorld
BuyBackWorld had the best trade-in prices on all three generations of Amazon's Kindle: Its buyback price for the current Kindle Wi-Fi plus 3G model is $87. Similarly, its $243 offer for Samsung's Galaxy Tab, while not a great value, is better than anything competing services have volunteered. Buyback World offers free shipping and pays by PayPal, check, or charitable donation.
On the downside: Every time you visit BuyBackWorld's Website, a video of a woman waltzes onto the screen and starts telling you about the service. Few things are tackier than obnoxious, automatically playing audio.
Runner-up: If the BuyBackWorld lady creeps you out too much, consider Gazelle, which offers decent prices for e-readers and tablets (and no talkative antelopes).
Dishonorable mention: RadioShack offered the lowest trade-in values for Samsung's Galaxy Tab and for every generation of Kindle.
How the buyback services compared: digital cameras.

Digital Cameras: Gazelle
Gazelle listed the best prices and accepted every camera we threw in its direction. A Fujifilm FinePix F200EXR, for instance, commanded $87 in good condition; that's $9 higher than BuyMyTronics's offer and $23 higher than eBay Instant Sale's. For digital SLRs, you have the option with many models to trade in the lens as well as the body.
On the downside: On occasion, Gazelle requires that you sell a DSLR's lens as well as the camera body.
Runner-up: If you're trying to sell just a DSLR body, eBay Instant Sale may come through where Gazelle does not. The Pentax K2000, for example, sells for $127 without the lens through eBay Instant Sale and for $160 with the lens on Gazelle.
Dishonorable mention: Best Buy, BuyBackWorld, and YouRenew don't accept cameras at all. RadioShack does, but its deals are terrible. A Canon EOS Rebel XSi can fetch $185 on Gazelle, but only $103.43 through RadioShack.
How the buyback services compared: televisions.

TVs: Best Buy
The buyback market is not kind to televisions. Most online services won't accept them, leaving Best Buy as your main option, and the price you get for them ranges from 50 percent of original value within six months to 10 percent for a two- to four-year-old set. The up-front cost is only $60 for a sub-$500 television, but for TVs priced at $2500 and up, Best Buy demands a $300 prepayment to enroll in the buyback program. It's an option if you're terrified of eBay and Craigslist, but not a particularly good one.
On the downside: If you keep the TV for a while, you'll end up with very little compensation at trade-in time. For instance, a set originally priced at $1100 will net you only $10 after two years; and you'll lose $10 on a TV that cost $500 originally, once you factor in the $60 up-front cost. Also, Best Buy pays only in store credit.
Runner-up: RadioShack accepts a limited selection of televisions 42 inches and under. Most HDTVs from major brands trade for around $100.
Dishonorable mention: None of the other online services deal in televisions at all. The playing field is wide open.
How the buyback services compared: game consoles.

Game Consoles: Gazelle
Once again Gazelle offered the best prices on average, but most surprising was its $80 offer for an original 20GB Xbox 360, which probably should be worth close to nothing. Haven't they heard of the Red Ring of Death?
On the downside: Searching for your console on Gazelle is a pain, because typing "Xbox 360" brings up a huge list of games that you can trade in, too. Use the 'gaming consoles' category link from Gazelle's home page instead.
Runner-up: BuyBackWorld offered $96 for an original 20GB PlayStation 3, compared to a puny $66 at Gazelle.
Dishonorable mention: Nintendo's DS Lite doesn't command a lot of trade-in money these days, but RadioShack's offer was the most insulting at $14.68. BuyMyTronics's offer of $15 for the PlayStation 2 Slim was just as bad. In comparision, Gazelle offers $36.
How the buyback services compared: Blu-ray players.

Blu-ray Players: Gazelle
Most trade-in programs don't accept Blu-ray players. Gazelle does–it's as simple as that.
On the downside: Don't expect a lot of cash in return. Samsung's BD-C7900, for example, costs $300 on Amazon but will generate only $125 in trade. If you have a two- or three-year-old Blu-ray player, you'll have to recycle it or try your luck with Craigslist or eBay.
Runner-up: RadioShack accepts some Blu-ray players, but the value's much worse than at Gazelle. LG's BD590, for instance, is worth $119 at Gazelle but only $56.16 at RadioShack.
Dishonorable mention: Everyone else. You might expect eBay Instant Sale to accept Blu-ray players, but no such luck.
The Bottom Line

Though we'd like to recommend one trade-in service that consistently trumps all the others, there's no clear winner across every category of tech products. Gazelle fared best on trade-in values for most categories, and it offers the greatest number of payment options, but it won't give you top dollar for smartphones and tablets.
For its part, NextWorth wasn't especially noteworthy in any particular category, but it does give you the option of trading in gadgets at Target and J&R in exchange for gift cards. RadioShack accepts trade-ins at its retail stores in exchange for credit, though its trade-in credits tend to be miserly.
The primary takeaway, then, is that you should be aware of all the trade-in programs at your disposal, and check each one when it's time to sell your next gadget. And the next time a Best Buy clerk pitches you on the store's buyback program, we recommend that you walk away.