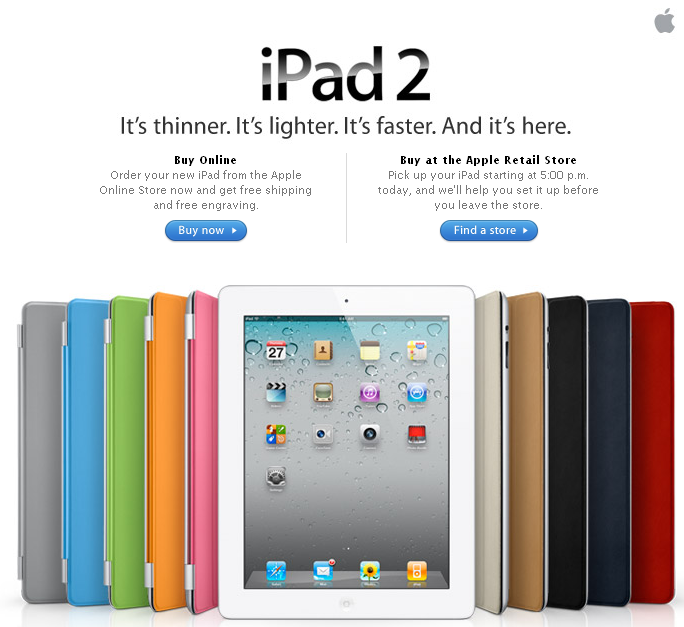 Friday is iPad 2 launch day and that could mean bedlam for consumers eager to get their hands on Apple's new and improved tablet. At 4:00 a.m. Eastern Time, the iPad 2 became available for purchase online, but it carries an average shipping wait time of two to three weeks. It'll also be available at over 10,000 different retail locations starting at 5:00 p.m. Eastern Time.
So if you've already wrung out your mind questioning whether you should buy the iPad 2 or not, the only impediment holding you back now is where you want to buy it.
Buying Online
The availability and shipping speed on the Apple store Web site fluctuates constantly. One moment I saw that the 16GB Verizon 3G and Wi-Fi model would ship in 3 to 5 business days. The next moment: two to three weeks. If you're willing to gamble with Father Time, certain models change from three weeks to one week with the blink of an eye. Remember: buyers are limited to two units per order.
Or you could just bite the bullet, pre-order one, and be patient.
Buying in Person
But patience is overrated — you want it now. Thankfully the iPad 2 is available in many more stores than previous Apple product launches. Cross your fingers and head to one of these stores: Apple, AT&T, Best Buy, Target, Verizon Wireless, and Walmart. More than 10,000 extensions of these businesses might be carrying an iPad 2.
Note that you can only buy the 3G and Wi-Fi versions of the iPad 2 at AT&T and Verizon Wireless stores. After all, they want ink and a new contract, so make sure you've compared the carrier's data plans to see which works best for you.
If you're keen on the pomp and circumstance of a genuine Apple store launch, the iPad 2 will be available at 236 Apple stores starting at 5:00 PM EST today, according to an Apple spokesperson. Those stores will close two hours prior to launch to prepare for the onslaught.
Though some reporters suspect that lines outside of brick and mortar shops won't be as massive as they were when the original iPad launched just 11 months ago, others predict that the iPad 2 will sell 600,000 units this weekend, which could mean jammed-up parking lots and nervous excitement in lines.
My suggestion — and it's always worked for me during day-one Apple product launches — is heading to the boonies, remote towns in western Massachusetts, in my case, where a new tractor is far more important than a new iPad. You might be pleasantly surprised when the clerk says, "Oh yeah, we've got loads of those tablet thingies. Can't seem to get rid of 'em."