Whether you're simply looking to stay current on the news about the recent earthquake and tsunami that hit Japan and is currently reverberating across the Pacific Ocean, or you're looking for ways to find information on your affected friends and family, we have a few tips that might help.
Tsunami News: Live Video Feeds
Enough video feeds are out there for you to recreate your own newsroom feeling in your home or office–if you know how to find them, that is.
NHK World Live (Japan Broadcasting Corporation) has an international video feed that is currently alternating broadcasts in different languages. Currently, the English-language news is periodically interrupted by recurring tsunami safety alerts (evacuation notices for different prefectures in Japan) in English, Chinese, Korean, and Portuguese, so you're probably best checking in on NHK occasionally while keeping another video feed open at the same time. If this stream is in the middle of the safety alerts, you can check and see if there's a line on the video that says "NEXT NEWSLINE at (time) (UTC)" to see when you should check the NHK next.
Al-Jazeera English and the BBC are also offering live online video feeds of their daily coverage, though they're also covering the other events of the day, so you won't get 100 percent tsunami coverage.
CNN is currently running live video streams from both Japan and California–you can find them from the network's landing page.
NHK is also making its Japanese-language broadcasts available over iPhone and Android via Ustream. You can also use its YouTube live stream, though that may not work on your smartphone; or check the NHK on Air Twitter account for more incoming streams as they're added. Alternately, you can try NHK's free iOS app for more streaming coverage.
Live Blogs and Other Information
You can still stay up on the news even if you can't watch video. The BBC and Al-Jazeera are both keeping live blogs (and you can follow @BBCWorld on Twitter), and you can check Yahoo Japan's Weather Alert page (Japanese) for current updates on expected size and timing of tsunami waves by prefecture. Also, EarthGauge has released a quick PDF fact sheet for an easy look at some basic information about the tsunami–including a tip or two about what to do if your area is in a tsunami alert.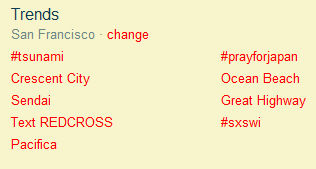 As always, Twitter is an excellent resource for finding breaking news and information, and this tragedy is no exception. Besides the news outlet accounts on Twitter mentioned above, you can use the trending topics fields to stay abreast of the news. Keep in mind that the really popular topics like #tsunami and #prayforjapan will catch just about anything, so don't forget less popular tags like #japanquake. Also, use your regional trending topics function to look for news and chatter from the areas you're interested in–you can change it with the Change link next to the regional topics list.
If you don't use Twitter, Facebook has similar capabilities as a real-time news and communication hub. For starters, try running a search for hot topics like "Japan" or "tsunami" in the "Posts by Everyone" section to keep abreast of what everyone is talking about. To share news and information, consider liking Facebook's Global Disaster Relief page or the Asahi Shimbun page. A number of smaller pages have also sprung up to spread news and information about the disaster–but please don't "Like" the Japan Earthquake.
The National Oceanic and Atmospheric Administration, a federal agency focused on the condition of the oceans and the atmosphere, has a Pacific Tsunami Warning Center page with earthquake information and updates from the U.S. Geological Survey. A Google Map of where and when the tsunami wave is expected to arrive on shores across the world is based on U.S. Geological Survey data.
Find Your Friends and Family in Japan
A handful of tools and utilities can help you to try to verify the safety of friends and family in Japan, but keep in mind that none of them are fool-proof, especially if they rely on the currently-overloaded cellular networks.
Google has released a version of its Google Person Finder, currently localized in Japanese, English, Korean, and Chinese. This database depends on self-reported information–you can search for a person by name, and it will return with any information that someone else has put into the database about that person. If you have confirmation that your affected friends and family are okay, please consider adding that information to the Person Finder database by clicking I have information about someone.
Also, Google Crisis Response has launched a 2011 Japanese Earthquake and Tsunami hub with the latest news, updated maps, and a growing list of useful resources for finding out more about the quake. Currently, you can access public data records, updates on the Japanese power grid, and even Japanese train schedules, which could help you locate your loved ones.
You can also check in via cell phone number–each of the major Japanese cell networks has a simple disaster board that can check to see if they've left any messages with their respective network's message board, whether it's NTT DoCoMo, SoftBank, or KDDI AU.
The U.S. Department of State has launched a succinct Japan Earthquake & Pacific Tsunami page with travel alerts and contact information for making missing person inquiries. To confirm the safety of a U.S. citizen in Japan, send a concise inquiry to: japanemergencyusc@state.gov To confirm the safety of a U.S. citizen anywhere in the tsunami zone save Japan, send your inquiry to: PacificTsunamiUSC@state.gov
Furthermore, the Red Cross operates a "Safe And Well" register to help disaster victims let their friends and family know they're safe. If you want to make a donation to help those affected by this disaster, donate via the Red Cross Website and make sure to select the "Japan Earthquake and Pacific Tsunami" option. It's even easier to donate via phone by texting REDCROSS to 90999, which donates $10 to the general Red Cross Disaster Relief Fund from your next phone bill; as of publication, there is no specific phone donation code for donating exclusively to relief efforts in Japan.
If you know of any great tech tools we missed, please let us know!
Patrick Miller is keeping his fingers crossed for everyone affected by the earthquake and tsunami. Follow him on Twitter or Facebook.
Alex Wawro hopes this helps, and encourages everyone to donate a little time and effort to the relief efforts. Find him on Twitter or Facebook.