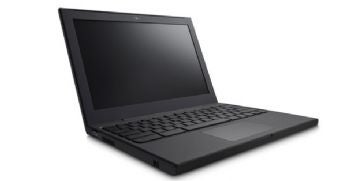 If you applied for Google's CR-48 pilot program in December and were still hoping to get one of the experimental Chrome OS laptops–too bad.
Sundar Pichai, a vice president of product management at Google, confirmed on Twitter that the company is fresh out of CR-48 notebooks. "Sorry we have shipped all units for now," Pichai said in response to a hopeful applicant. "Thanks for your interest and we will have partner devices out mid-year."
The "for now" in Pichai's comment leaves open the possibility of more Cr-48s becoming available, but it seems unlikely with the summer just a few months away. That's when PC makers including Acer and Samsung plan to make Chrome OS laptops commercially available.
Chrome OS is the web-based operating system that Google announced in July 2009. It's basically a version of the Chrome Web browser with some modifications to support wireless connectivity, a web cam and other basic OS functions. Chrome OS notebooks will have a rudimentary file system with a bit of room for local storage, but the idea is for most services to be web-based, with data stored in the cloud. Google wants users to trade the local storage and installed software of traditional operating systems for the speed and security of Chrome OS.
As for the Cr-48, don't feel too bad about missing out. Reviewers found the notebook's trackpad fussy and the hardware underpowered. And I'm willing to guess that commercial Chrome OS notebooks will include the Cr-48's most notable feature: No Caps Lock.
Follow Jared on Facebook and Twitter for more tech news and commentary.