Some downloadable software is so good that you just have to grab it. Unfortunately, often you have to pay for it after you try it out. But every once in a while, a must-have program is totally free. Such indispensable, no-cost programs are the hardest kind to find.
We've saved you the time it takes to dig up such gems. Read on to learn about ten must-have programs that can keep your PC fast, fun to use, and safe. Some of the creators ask for a small donation if you like the application, and some of these downloads are older, "lite" versions of more full-featured software–but all are free to download, and free to use.
(For links to all of these downloads in one convenient list, see our "10 Must-Have Free Downloads" collection.)
System Cleanup and Maintenance
System maintenance and cleanup utilities are always useful, and we know of some excellent tools that anyone should have. Start with CCleaner, the best free/donationware program you can find for cleaning a system and keeping it in tip-top shape. It deletes temporary and unneeded files, erases your browsing tracks, kills unwanted cookies, and zaps unnecessary files associated with various programs, including all the popular browsers. It even provides a Registry cleaner.
Want to make CCleaner even better? Download CCEnhancer (free/donationware), which powers up CCleaner by increasing the long list of cleanable programs. It tidies up the traces of more applications than CCleaner can do alone, adding favorites such as Ashampoo Burning Studio, LogMeIn, Microsoft Works, and many others. It integrates directly into CCleaner, so you have nothing new to learn.
Part of keeping your system in ideal condition is knowing what's inside it, and that's where LookInMyPC can help. It peers into your computer and gives you an exceptionally detailed report, including the PC's manufacturer, its serial number, the amount of RAM, the hard-disk space, and similar hardware info. Overall it offers far more than most users want to know, though the amount of detail is perfect for geeks; if you dig into it, you can see the part number of your RAM chips, all your installed printer drivers, the name and address of your ISP, lists of installed updates and patches, and plenty more.
Making sure that your machine has the latest software is important as well. The free Secunia PSI scans your PC, finds all the installed software, alerts you about which programs need updates, and then helps you do the updating. It also warns you about which of your out-of-date programs represent a security risk, and it can even automatically update your programs after a little configuration.
Media Tools
Be sure to download some great free tools for handling media, too. One you absolutely must get is IrfanView, a superb graphics viewer and basic image editor. It's fast, it's simple to use, and it's free/donationware–what else could you want? It views just about any image file type in existence, and does so with lightning speed. You can also use it to convert between file types, crop images, add effects, and perform other basic editing chores. It can show files as slideshows and play multimedia files, too.
If you're looking for a more powerful tool for photo editing, you'll want to download Photoscape. That a piece of software this powerful is free/donationware is remarkable; you'll be amazed at how much functionality is built in. For a start, it offers a photo editor, a file viewer, a slideshow creator, a batch editor, and a screen-capture program. And each component is packed with features. For example, you can combine multiple photos into a single frame, and can even convert RAW-format photos–used by many digital cameras–into .jpg files.
If your tastes run to multimedia, one great freebie for you is Ashampoo Burning Studio 6 Free. Contrary to what some people may believe, CDs and DVDs are not a thing of the past, and this free program is ideal for anyone who needs to rip, burn, or copy such discs. (The current commercial version, the $50 Ashampoo Burning Studio 10, adds editing, menu creation, and other features.) With Ashampoo Burning Studio 6 Free, you can copy entire discs, burn movies to a CD/DVD/Blu-ray Disc, create Video CDs, create .iso images from a CD or DVD, create a CD or DVD from an .iso image, and a lot more. Despite all those capabilities, the program is exceedingly easy to use.
Productivity Boosters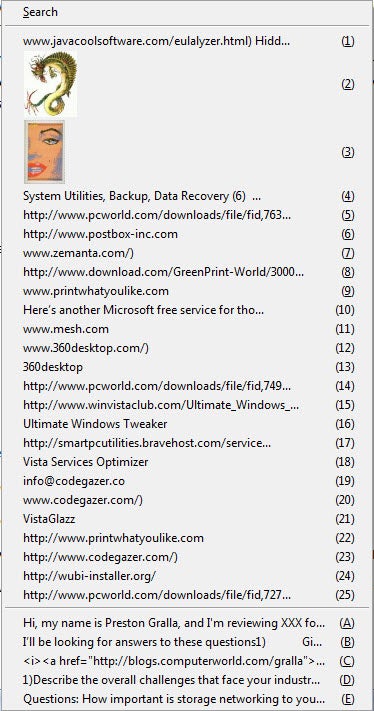 Several other must-have free tools don't fit into a neat category. One of my favorite all-time utilities is ClipX. This venerable clipboard enhancer powers up the anemic Windows Clipboard, keeping the last 25 Clipboard clips so that you can reuse them. It stores graphics as well as text, takes up barely any RAM, and is exceptionally easy to use. It also accepts plug-ins. Make sure to get the developer's own ClipX Stickies Plugin, which stores clips you frequently access–such as boilerplate text or corporate logos–so that you can pop them into any application. Note: ClipX isn't officially supported on Windows 7, but it worked fine on my Windows 7 test PC.
If you use archive or compression formats, download Hamster Free Zip Archiver. With this tool you can create and open archives with drag-and-drop ease. It handles all the popular compression formats–including .zip, .rar, and .7z–and gives you a host of useful capabilities, such as changing compression levels and splitting files.
One of the biggest free productivity boosters I've ever encountered is Evernote. It's perfect for anyone who suffers from information overload and needs a way to store data of any kind and then find it quickly. The program captures information from the Web, e-mail, and even digital cameras, scanners, and microphones. You can manually enter notes yourself, too. You categorize the information, tag it, and annotate it so that it's easy to find and use. Since Evernote syncs the information to the Web and mobile devices, you have it wherever you go. I use this tool to research and write books and articles, plan vacations, and more. You'll likely find plenty of uses for it as well.